PMH Capital Construction Project Update
Prairie Mountain Health (PMH) continues to move forward on several major construction and renovation projects in partnership with Manitoba Health and Shared Health. The following is a brief update as of November 1, 2023.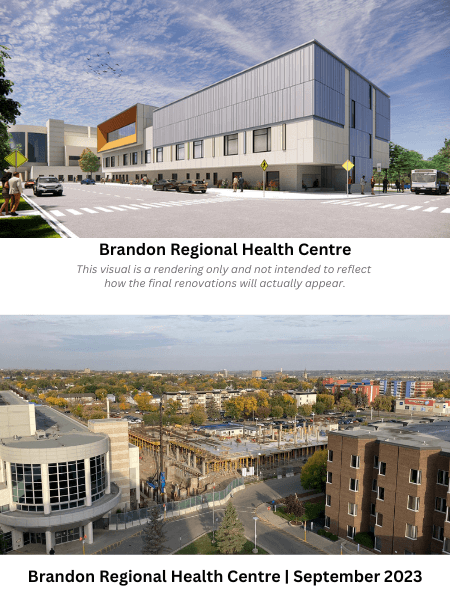 Brandon Regional Health Centre (BRHC)
Construction to expand and renovate clinical spaces within the BRHC campus is going well with work on the new Critical Care bed tower addition underway. Once completed the entire project will feature:
a new 16-bed Intensive Care Unit – main level.
approximately 30 additional medical beds on – the 2nd floor.
3rd floor – mechanical space.
4th floor – shell space for potential future expansion.
The anticipated substantial completion for the Critical Care bed tower project is early 2026. As well, there is a planned renovation to the Neonatal Intensive Care Unit.
---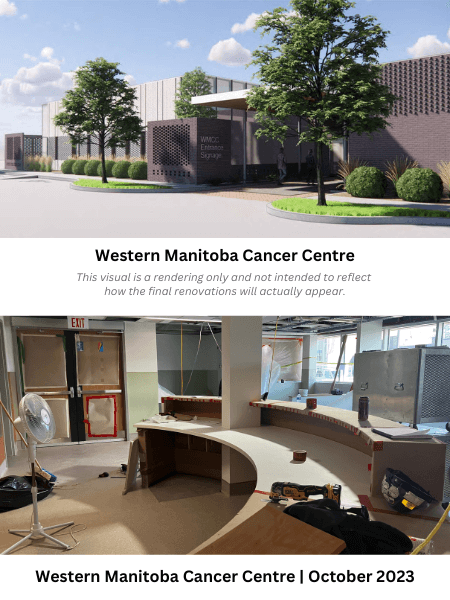 Western Manitoba Cancer Centre
Work continues on the expanded and renovated WMCC, which will serve as a regional cancer hub, providing enhanced cancer services for patients across western Manitoba. The project includes:
7,000-sq.-ft. expansion and renovation of existing space, including additional exam rooms and treatment spaces.
space for a 'Centre of Hope' for counselling and recovery patients to have additional support and resources.
second medical linear accelerator, used for delivering external beam radiation treatments to patients with cancer.
The anticipated substantial project completion is the spring of 2024.
---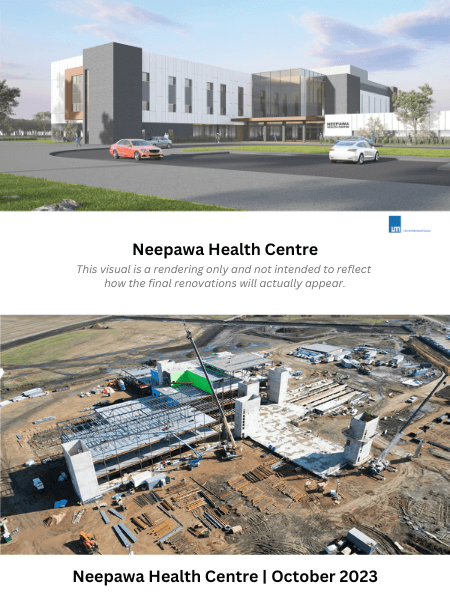 Neepawa Health Centre
The new hospital is being built east of Neepawa on the north side of the Yellowhead highway near the Lions Campground.
It will be nearly double the size of the existing hospital, and will better serve patients from this broader western Manitoba geographic area. Features of the new health centre will include:
60 acute care inpatient beds, up from 35 at the current Neepawa site.
an expanded emergency department designed to best practice standards that include treatment and assessment rooms, trauma rooms and an ambulance bay.
adding a hemodialysis suite with nine dialysis stations.
enhanced space for a number of other programs, such as surgery, diagnostics, and palliative care, as well as outpatient services like chemotherapy (6 treatment stations).
The anticipated substantial completion right now is sometime in 2026.
---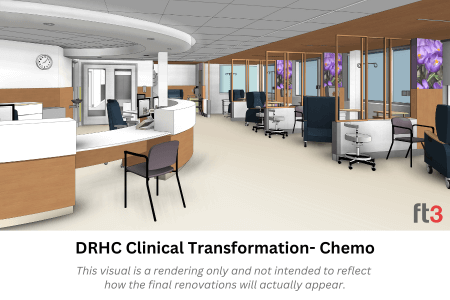 Dauphin Regional Health Centre
Renovations to the Dauphin Regional Health Centre (DRHC) are converting temporary Emergency Department space to enhanced patient care areas and a further increase in hospital inpatient capacity. This includes:
a new Endoscopy suite will relocate all endoscopy procedures out of the existing operating room, further free up operating space, and increase surgical capacity.
a new Chemotherapy unit, relocating the existing unit on the hospital's third floor to the main floor.
adding nine additional inpatient beds (seven on medicine, two on surgery).
Phase 1 anticipated completion (Endoscopy/Chemotherapy) is expected in December 2023.
Phase 2 completion (hospital in-patient renovations) is anticipated in the summer of 2024.
---
Killarney, Virden and Souris Health Centres
Three additional Emergency Department (ED) renovations in Virden, Killarney and Souris are complete. We are currently preparing to enter the new space. This involved:
dedicated space for registration and triage for those attending the ED. This will provide greater privacy but also better sight lines for staff to view patients and the waiting area.
refreshed treatment spaces (e.g.: new paint, flooring, etc.).
improved wayfinding for those arriving at the Emergency Department and for those coming to visit inpatients.
The new ED spaces will officially open in November 2023.
---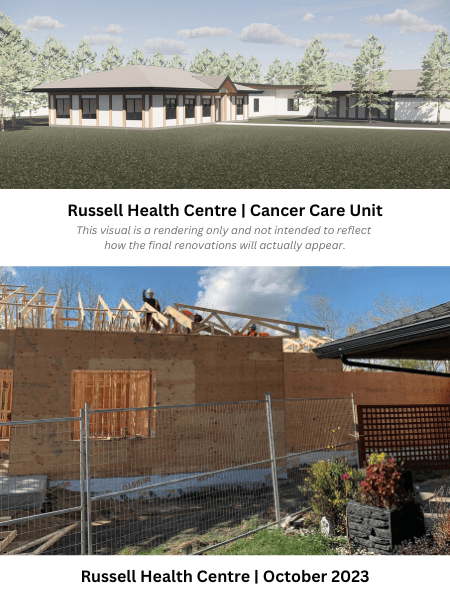 Russell Health Centre
Construction is well underway on the building addition to expand the cancer care unit at Russell Health Centre. Work on the $2.5 million project began in late spring and is anticipated to be completed in the spring of 2024.
Once complete, the project will add another 3,300 sq.-ft. to the health centre's existing CancerCare Manitoba chemotherapy treatment space and include:
replacement of the existing nursing station and medication storage area;
creation of a dedicated patient washroom, nourishment area, and a small waiting area;
improved patient privacy.
PMH has collaborated with health partners and stakeholders for the necessary building planning, construction costs and associated timelines for this important capital project. The regional health authority will contribute annual operating costs for the expansion, including staffing and supplies.
Read More