Camp Bridges
Camp Bridges will be held May 26 – 28, 2023
This camp is open to any child in Manitoba, aged 7 – 15 years (revised age limit as of 2018), who is grieving the death of someone significant in their lives. There is no fee to attend the camp.
Camp Bridges is in need of MALE Camp Leaders. See the application form below.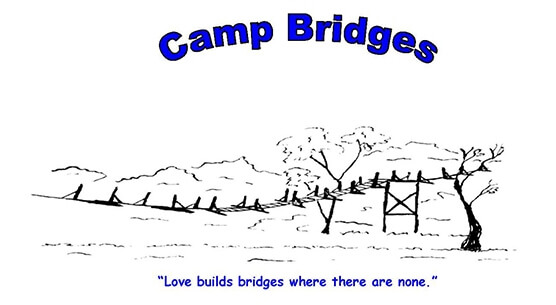 Camp Bridges will provide a safe environment where the campers have opportunities to interact and share their feelings with other children in similar circumstances. They may learn to understand their grief, recognize that they are not alone, and that their feelings are normal. The camp is not designed to provide grief therapy, but we will acknowledge the loss and grief, honour memories, and have some fun, too.
Camp Bridges is facilitated by dedicated trained volunteers who create a warm, fun filled, caring atmosphere where campers are able to enjoy the outdoors and grow in understanding of their grief.
Campers Learn
They are not alone in their grief.
They are free to share thoughts and feelings with peers who have also experienced a death of someone they loved.
Activities
Zip Lining
Archery
Horseback Riding
Hiking
Campfire Activities
Memorial Activities
Volunteers/Donations
Camp Bridges is organized by the palliative care program in Prairie Mountain Health.
• Income tax receipts will be issued for donations.
• If you wish to make a donation, or volunteer your time, please view the brochure and/or volunteer application below and contact us!
Resources
Contact
Carla Mitchell
Ph: 204-578-2310
cmitchell1@pmh-mb.ca