Craving Change (CC)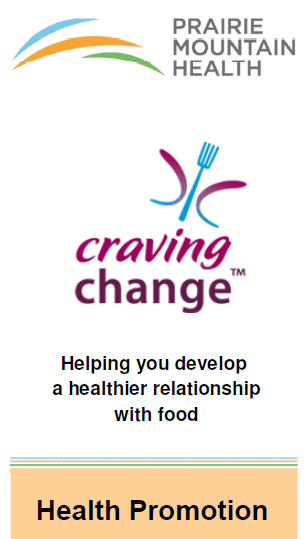 download our brochure
CC is an educational program led by trained facilitators. This program will help participants develop a healthier relationship with food.
CC will help you to:
understand why it's hard to change your eating.
identify your personal triggers for problematic eating.
learn to respond to your triggers differently.
maintain these changes.
Who would benefit?
CC is suitable for adults 18 years of age and older. Individual diet counselling and teaching are not part of the CC community classes. Anyone with medical conditions are welcome to attend CC, but for those who do not understand their individual diet needs, it is recommended to see a Registered Dietitian first.
Please call the Healthy Living Toll Free Line at 1-877-509-7852 to register for Craving Change or request an appointment with a Dietitian.
Can I bring a support person?
Participants are welcome to bring a friend, family member or other support person to the program.
Is there a cost?
The program is available at no cost.
How long is the program?
Group classes are offered. Programs are planned for two hours per session. Sessions are once a week for a total of three weeks.
Do I have to come each week?
To get the most of the program, participants should attend all sessions.
What can I expect at a session?
The sessions will help you build confidence to manage your eating through group activities and discussions. Each participant will receive a CC workbook which includes self-assessment worksheets and strategies to practice at home between sessions.
When and where are sessions held?
For more information about the program visit cravingchange.ca or contact one of our CC Coordinators: