About Us
Our Region
Prairie Mountain Health/Santé Prairie Mountain (PMH) was officially formed in June 2012, following the Manitoba government amalgamation of the former regional health authorities of Assiniboine, Brandon and Parkland. It is one of five regional health authorities in the province.
The Region covers a geographically large area, around 67,000 sq. kilometres. It runs east-west from Saskatchewan/Manitoba border communities like Benito, Elkhorn and Russell to Waterhen Lake, Lake Manitoba and Treherne. From north-south, the region runs from the 53rd parallel north of Mafeking and close to Dawson Bay, right down to the United States border near communities like Melita, Deloraine, Boissevain, Killarney and Cartwright.
The land is also defined as the traditional territories of the Cree, Dakota, Ojibway, Oji-Cree and homelands of the Metis. There are 14 First Nation communities in the geographical area of PMH. The First Nation communities of Ebb and Flow, Keeseekoowenin, O-Chi-Chak-O-Sipi and Skownan are signatory to Treaty#2 that was signed in 1871. Gambler First Nation, Pine Creek, Rolling River, Sapotaweyak Cree Nation, Tootinaowaziibeeng, Waywayseecappo and Wuskwi Siphik are signatory to Treaty #4 that was signed in 1874. The Dakota First Nation communities of Birdtail, Sioux Valley and Canupawakpa were not a part of the Numbered Treaties. However, they are recognized as having occupation of territories within Manitoba and have secured alliances and arrangements with the Crown.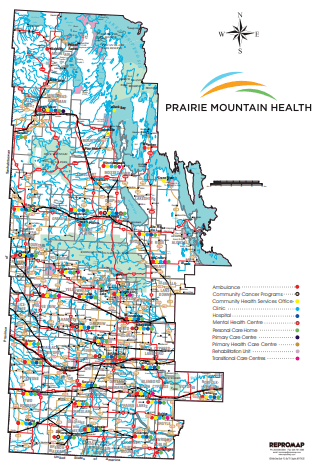 The region also has 15 Northern Affairs Community Councils and 38 Hutterite colonies/communities.
The population of the region as of 2023 is 168,876 around 12.6% of the Manitoba population. It is made up of 58 municipalities, which include the cities of Brandon and Dauphin.
In Prairie Mountain Health region, there are 20 acute care (hospital) sites, 43 long term care (personal care home) sites, nine (9) transitional care sites. A transitional care site is defined as a site where the client/patient does not require 24-hour hour per day/7 day a week medical (Physician) supervision and/or intervention.
There are also seven (7) Primary Health Care Centres, and 38 Emergency Medical Service (EMS) ambulance facilities and one Orthopedic Rehabilitation Centre (Rivers) within the region. Community Health Services are also offered at sites throughout the region. Visit "our locations" and click on the community to see what services are available.
The Region works alongside a number of affiliate (non-devolved) facilities of which the numbers are included above, by means of operating agreements, which include:
Dinsdale Personal Care Home – Brandon;
Dr. Gendreau Personal Care home – Ste. Rose Du Lac
Hillcrest Personal Care Home* – Brandon; and
Ste Rose General Hospital
Valleyview Personal Care Home* – Brandon
Winnipegosis District Health Centre;
*Hillcrest Personal Care Home and Valleyview Personal Care Home in Brandon are proprietary (for profit) Personal Care Homes and are currently funded through Winnipeg Regional Health Authority. However, through a service agreement, PMH is responsible for quality of care and standards for these two facilities.
There are also seven Community Cancer Programs, with Regional Cancer Care Hubs in Brandon and Dauphin and support programs in Deloraine, Hamiota, Neepawa, Russell and Swan River. Prairie Mountain Health and CancerCare Manitoba also work together to provide services and support for cancer patients at a dedicated facility – the Western Manitoba Cancer Centre – which opened in Brandon in 2011.
The region also offers hemodialysis services in Brandon, Dauphin, Russell and Swan River.
As of September 2023, there are 27 communities within PMH region that provide Telehealth services.
As of September 2023, there are approximately 7,500 employees of Prairie Mountain Health whom, together, provide a broad continuum of health programs and services.
The Region is designated as a provincial bilingual Health Authority, in accordance with French Language Services legislation and guidelines.