Construction underway soon for expanded Cancer Care site at Russell Health Centre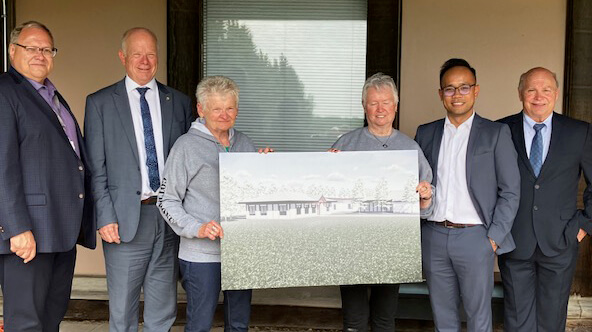 The vision of the Russell Expanding Community Cancer Care Committee is coming into focus with the recent announcement that construction is soon beginning on the expanded chemotherapy unit at the Russell Health Centre. Excited committee representatives and community members joined dignitaries from the Province, CancerCare Manitoba and Prairie Mountain Health (PMH) May 26, 2023, for an official groundbreaking ceremony, signifying that work on the $2.5 million building addition has commenced and the anticipated completion date was the end of the year (2023).
"After more than eight years of fundraising for a new chemotherapy unit at the Russell Health Centre, we are delighted that our long-awaited project is now happening," said Gloria Tibbatts, co-chair, ECCC committee.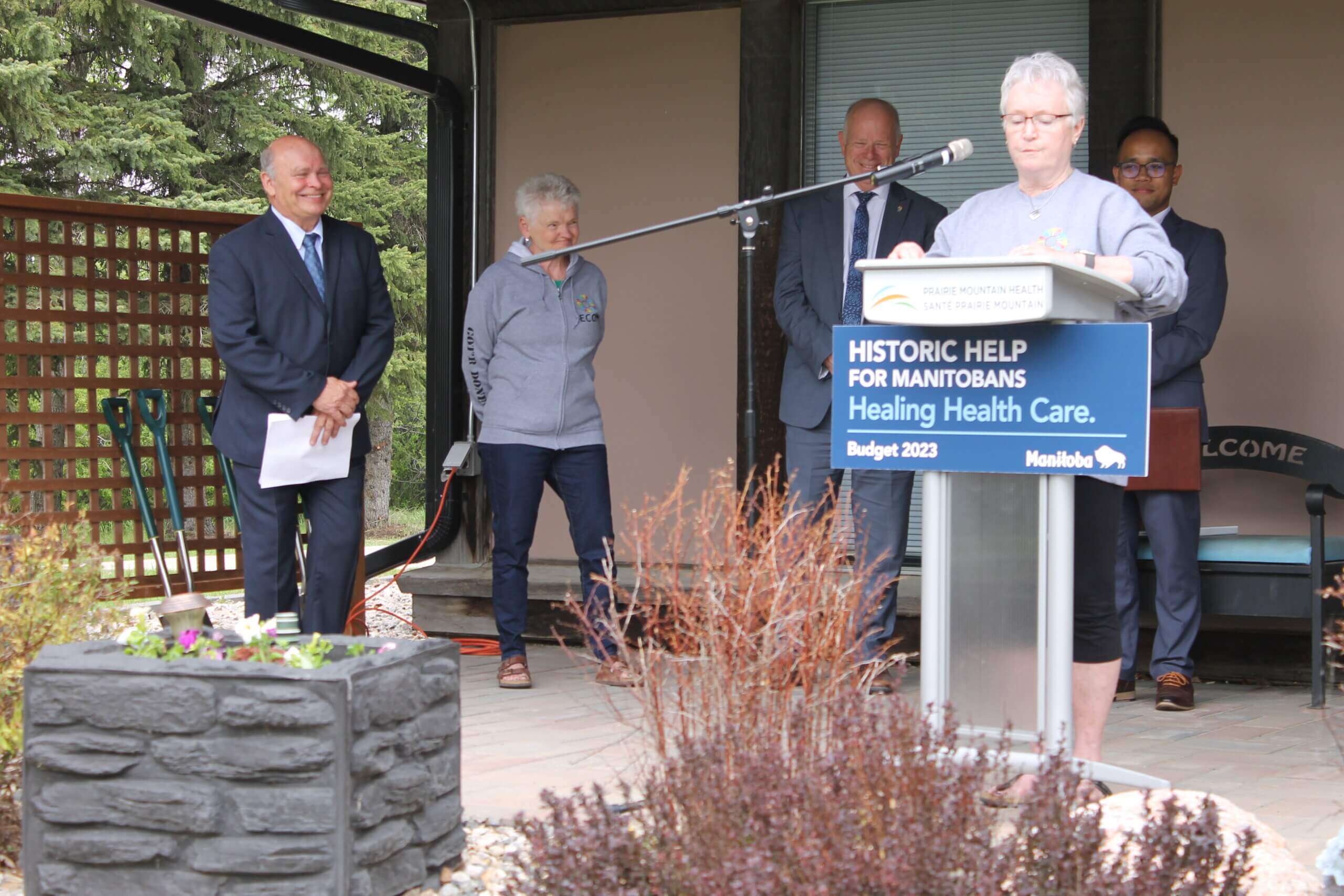 "Our dream is now a reality that will benefit many. We would like to thank the people from all around our region who have supported us. The power of community and of our donors has made this possible."
Swan River MLA Rick Wowchuk and Minister of Natural Resources and Northern Development Greg Nesbitt indicated that the much-needed expansion will improve access to chemotherapy in Russell for patients in the community and surrounding region.
"The new Community Cancer Care Centre will ensure more people in Russell and the surrounding region will be able to access the care they need, closer to home," Nesbitt said.
"Our government supports this community-driven project and we commend the efforts of everyone who worked to make this project a reality."
The Expanding Community Cancer Care (ECCC) committee includes membership from the communities of Angusville, Beulah, Binscarth, Birtle, Foxwarren, Inglis, Langenburg, Sask., Roblin, Rossburn, Russell, St. Lazare, Shellmouth, Silverton, Solsgirth and Waywayseecappo that has collectively raised $1.8 million toward construction and equipment costs related to the expansion. The total project cost is estimated at $2.5 million. Last spring, the Manitoba government confirmed its commitment of $700,000 to support the remaining costs of this project.
Once complete, the project will add another 2,300 sq.-ft. to the health centre's existing CancerCare Manitoba chemotherapy treatment space and include:
replacement of the existing nursing station and medication storage area;
creation of a dedicated patient washroom, nourishment area, and a small waiting area;
improved patient privacy; and
space for future expansion of treatment areas, if needed.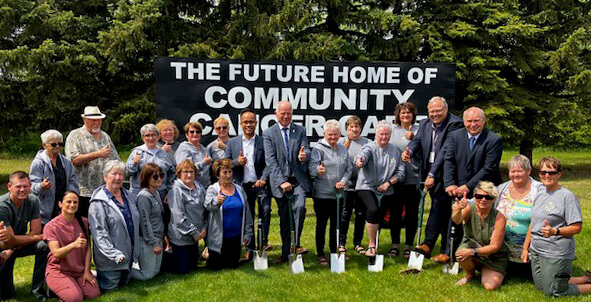 PMH has collaborated with health partners and stakeholders to plan for the necessary building planning, construction costs and associated timelines for this important capital project. The regional health authority will contribute annual operating costs for the expansion, including staffing and supplies.
"We are very grateful to the Expanding Community Cancer Care committee for their vision, hard work and dedication in fundraising for this cancer unit expansion," said Brian Schoonbaert, chief executive officer, PMH.
"This is a true example of success when people and communities come together and contribute to such a worthy project. Cancer is a journey, and this new addition will better serve patients travelling for care in a more comfortable setting. We thank patients and the general public for their patience as we go through the construction phase and look forward to the opening of this new addition."
Tibbatts said fundraising efforts will continue in the near future, with money raised going towards equipment and an anticipated separate parking lot.