World NO Tobacco Day: May 31 Grow Food, Not Tobacco
May 31 marks the 36th annual World No Tobacco Day. This day, established by the World Health Organization serves to "draw global attention to the tobacco epidemic and the preventable death and disease it causes" (WHO 2023). The theme this year is Grow food, not tobacco and aims to encourage governments to support farmers to switch from growing tobacco to growing food thus improving food security and nutrition around the world. To find out more about this global advocacy work visit the WHO World No Tobacco Day webpage.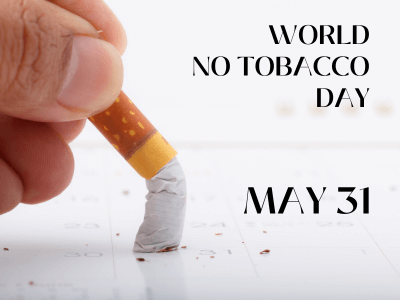 Closer to home in Canada, a number of organizations are regrouping to identify key actions to bring us closer to Canada's target of less than 5% smoking rates by 2035. Significant strides have been made in the past couple of decades to substantially decrease smoking rates and the associated harms. However, the recent rise in vaping threatens to stall the progress we have made and create a new generation of nicotine users. The tobacco industry which owns most of the vaping products continues with heavy marketing to attract new people to use their products. If you are a parent, consider talking to your child about the harms of both smoking and vaping. More information can be found at Health Canada or the Consider the Consequences campaign website.
If you smoke or vape and are ready to make a quit attempt, we can help! Quitting smoking is one of the best things you can do for your health. There are several options available in Manitoba to support individuals making a quit attempt from one-on-one counselling and quit aids to online, phone and text support and we encourage you to check out our website for a full list of options. You can also call PMH's Chronic Disease Education Program Toll-Free line – 1-877-509-7852, to arrange an appointment with a nurse educator and to enroll in the Tobacco Quit Card and Counselling program.