Pride Month

PMH is proud to celebrate #Pride & the 2SLGBTQQIA+ community.
Celebrations in Our Region
If you are hosting an event in your community, please share those details by emailing communications@pmh-mb.ca, and we would be happy to share that information on our website and on our social media channels.
Support Services
Visit our Transgender Health webpage for information on services available to you within Prairie Mountain Health.
Celebrating Our Staff: The Bailey-Morrison Story
Originally written & published by Shared Health
Visit the Shared Health 2SLGBTQQIA+ Community page for more stories, resources.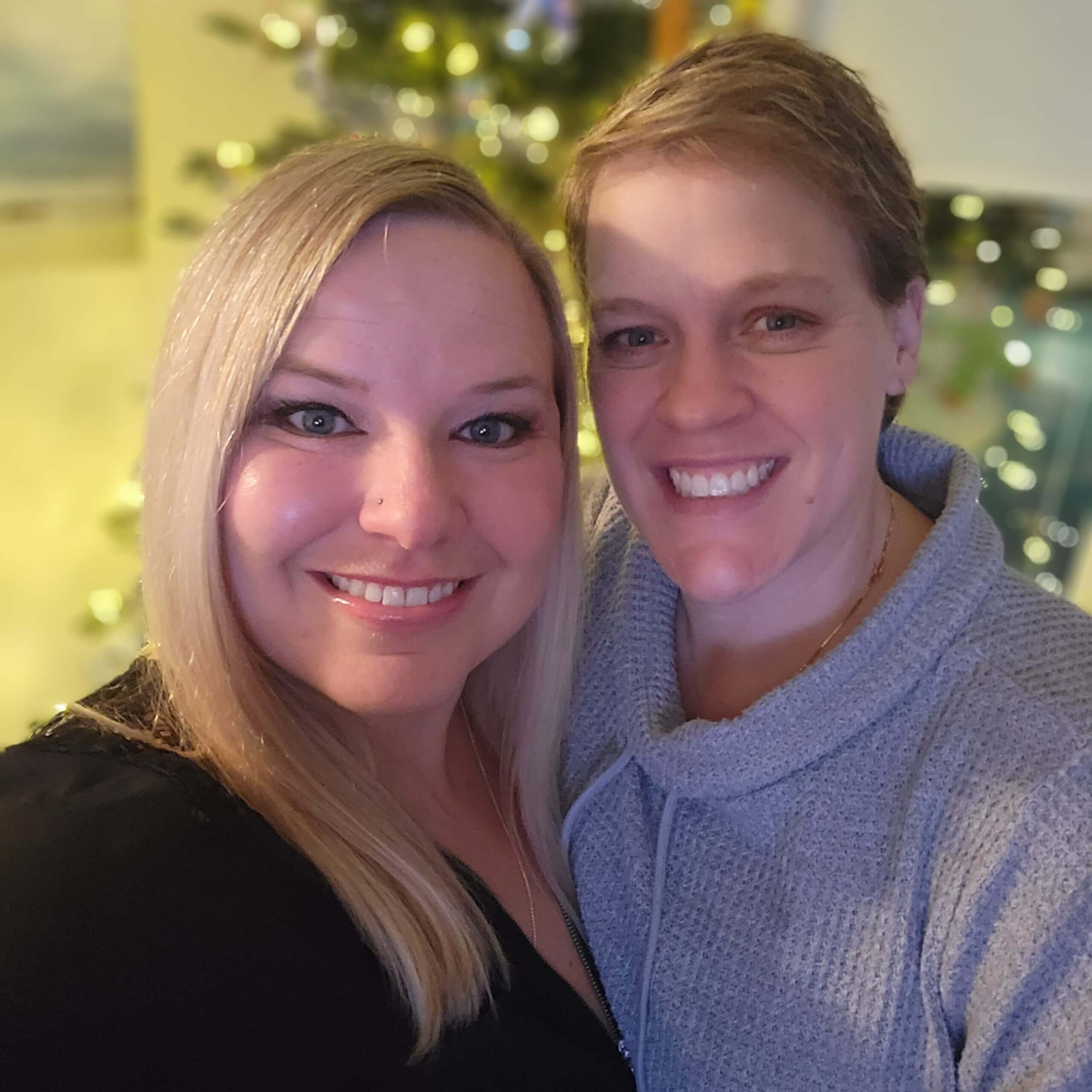 "You fall in love with a person, not a gender. You love a person for who they are, not their parts,"

Crista Bailey-Morrison, Patient Services Manager, Dauphin Regional Health Centre
A twist of fate brought Crista Bailey-Morrison to Winnipeg, enrolling in the Paramedicine program at Red River College. There she would meet her future wife, Chandel, who was studying to become a nurse.
"We tell our kids now, how Mommy and Momma met," explains Chandel Bailey-Morrison, Care Team Manager at Dauphin Regional Health Centre. "The story starts with how two girls met during lunchtime at a microwave, they fell in love and got married."
At the time, Chandel didn't expect to fall in love with another woman. She had never been in a same-sex relationship before and wasn't sure how to navigate her new-found feelings.
"Honest to goodness, it was like something you'd see in a movie," says Chandel. "Once we kissed, it was like nothing I'd ever felt before in my whole entire life – all I could feel were butterflies! There were sparks and fireworks and everything was going off!"
After keeping their relationship a secret, for what felt too long, Chandel finally gathered up the courage to come out to her parents. Knowing how traditional her father was, Chandel wasn't sure how he would take the news. Unexpectedly, he answered back with "I've known. I'm not comfortable with it right now but I love you so much and I see how happy you are – that's all that matters to me."
"I lost it and instantly teared up. I had been terrified to tell him and had so much fear stored up because I didn't want it to change our family dynamic. We're all about family in our house, we had dinners together every Sunday and were always doing things together as a family unit. For him to say 'I will be okay with it someday' was a huge relief," shared Chandel.
From that moment on, Crista became a part of Chandel's family and was included in everything, even Sunday night dinners; and not just as a friend.
"It happened so fast for us because it felt so natural," explains Chandel. "I knew she was the one."
The couple proposed to each other only 8 months into their relationship. Understanding their dream destination wedding wasn't going to be accessible for everyone, Crista and Chandel made a trip out to Alberta to visit Crista's family before the big day.
"My dad accepted me and who I loved right off the bat. He's not with us anymore, but he didn't care who I was with, as long as I was happy," shares Crista.
During that trip, Chandel surprised Crista with a small wedding in Banff to have Crista's dad be a part of the celebration.
"Having Chandel arrange everything for us to get married in the mountains was one of the most thoughtful things anyone has ever done for me," says Crista. "Having my dad, my biggest supporter, there to give me away was unforgettable."
When Crista found a job as a paramedic in Dauphin, Manitoba, Chandel followed and found a job as a nurse in their new hometown. As the couple settled into their new lives, it wasn't long before they started to dream about growing a family together.
"At first moving to Dauphin was a big culture shock and we didn't really know anyone," says Chandel. "We met another gay couple in Dauphin, two men – and when you meet another same sex couple, you gravitate towards them because it's so few and far between, especially in a small town."
Finding common ground over dinner one night, Crista and Chandel were talking to their new friends about how starting family can be extremely difficult and costly for them as a same sex couple and felt quite discouraged.
"I didn't know if I was going to have kids have because I didn't know how we would do it. I accepted that it might not be in the cards for me," shared Crista.
"I've always wanted to be a mom. It was hardwired in me," explains Chandel. "The next morning when our friends told us 'we'd like to help you start a family', I remember being in in utter disbelief. Tears filled my eyes and wouldn't stop. This kind of gift really was unimaginable. It takes a really special person to do this for someone. To have them both offer was truly a blessing."
Nine months later Crista gave birth to their first daughter and 16 months later Chandel gave birth to their second. Surrounded by love, the girls now have a 'mommy', a 'momma', a 'daddy' and 'dadda' in their lives as well as five sets of grandparents.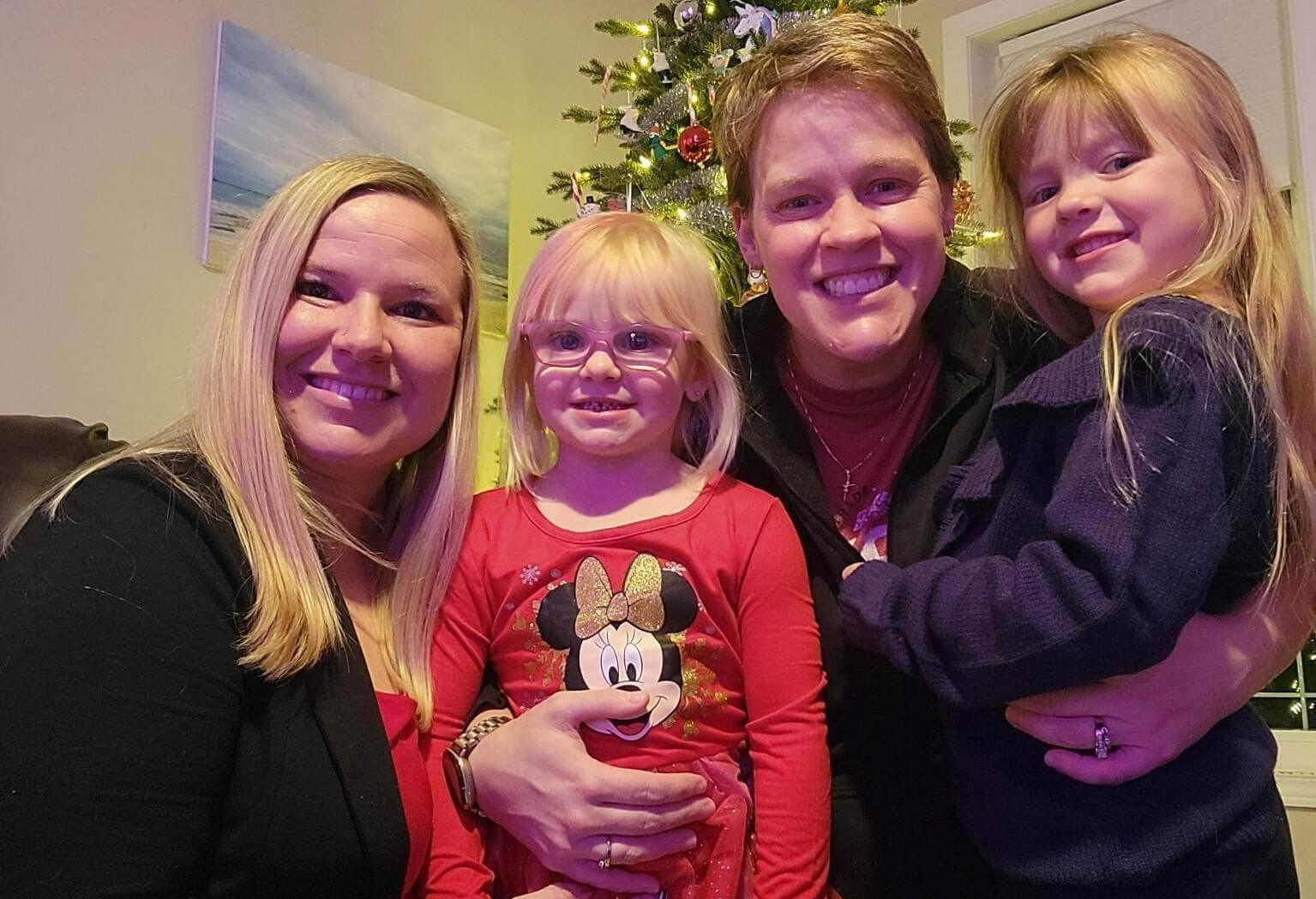 "We all decided to be honest with the girls right from the start. This is your 'daddy' and this is your ''dadda," explains Chandel. "They know who their dads are and as they grow up there isn't any confusion. We celebrate and visit with extended family as often as we can too!"
Chandel and Crista's story has inspired others within their small town to live their lives authentically. Many have thanked them, including the parents of queer children, for being an example of what queer can look like, both being respected in the workplace and out in the community raising a family.
"My story and background in the rainbow community as I like to call it, gives me an advantage working in health care," says Chandel. "I gravitate to those who identify under the rainbow. When I care for them I often mention my wife in conversation and you can physically see their anxiety melt away. I'm almost a type of invisible support for them and help to create a safe space in the hospital."
"We're just us; it's not any different," says Crista. "To those struggling with coming out and the social pressures I'd say, be who you are and don't try to hide it, that's only hurting you. The most important people in your life will stick around."
"In a sometimes-lonely society, coming together during pride and seeing how many people belong to our community, you realize there are more of us out there," says Chandel. "I feel proud of who I am and who I've become on the journey I've taken on with my lovely wife."