This Donation Page is populated by submissions from our staff, the public, local Auxiliaries and Foundations. If a donation has been made to your local facility please send a photo and a brief write up to the Communications Department. We would like the opportunity to share it with the rest of our staff and the public. Please email your submissions to communications@pmh-mb.ca.
HERO Club Receives Donation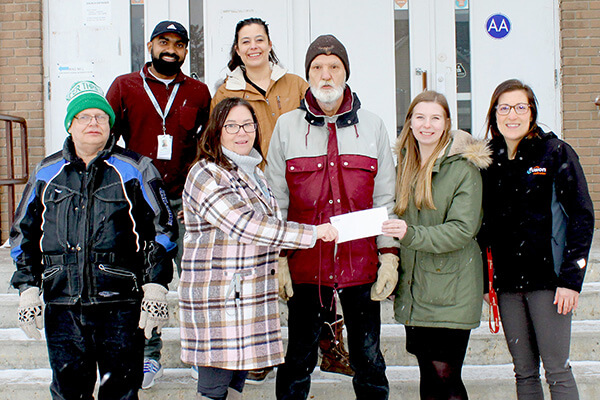 The Dauphin HERO Club received a boost from Fusion Credit Union to the tune of $1,000 through Fusion's 'Full Circle Fund'. The fund assists communities served by the Credit Union and the contribution will go towards construction of a new shed for the HERO Club's well-recognized Hot Dog Cart.  From front (l-r) are: Francis Jackson, Lori Bogoslowski, HERO Club Activity Instructor,  Kelly Marceniuk and Dauphin Fusion Credit Union representatives Amber Fedirchuk and Kelli Zeiler. From back (l-r), and representing Prairie Mountain Health, are Anish Arapurathu Rajasekharan Pillai, Mental Health Proctor and Shantelle Rank, Registered Psychiatric Nurse.  Prairie Mountain Health (PMH) provides coordination and other assistance to the HERO Club through its mental health program.  Dauphin is one of four HERO Club sites within the health region. Roblin, Russell and Swan River are the others.
---
U18 AAA Parkland Rangers donates to cancer units within PMH
Members of the U18 AAA Parkland Rangers were on hand in three local communities January 12 to present proceeds from their 'Hockey Fights Cancer Night', which was held back on Oct. 25, 2022 when the team played host to the U18 Brandon Wheat Kings. The annual recognition night raised a total of $3,600 dollars, with a split of $1,200 each presented to three Community Cancer Programs within the Prairie Mountain Health (PMH) region. Chemotherapy Units in Dauphin, Russell and Swan River were grateful to receive the contributions, which were primarily raised through game night donations, door prizes and a raffle draw.
Prairie Mountain Health and CancerCare Manitoba sincerely appreciate the generous donations. (With pictures and files from Russell Banner and Swan Valley Star and Times.)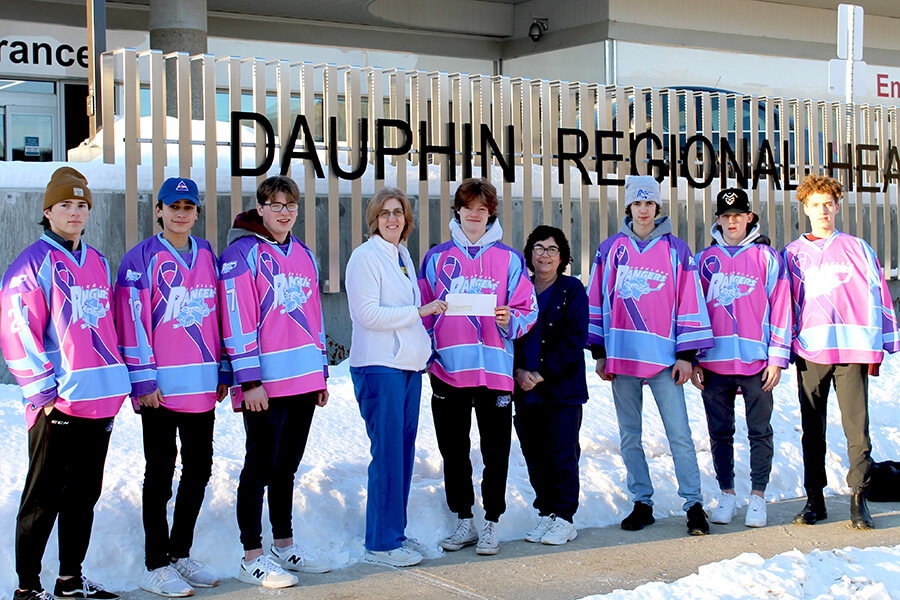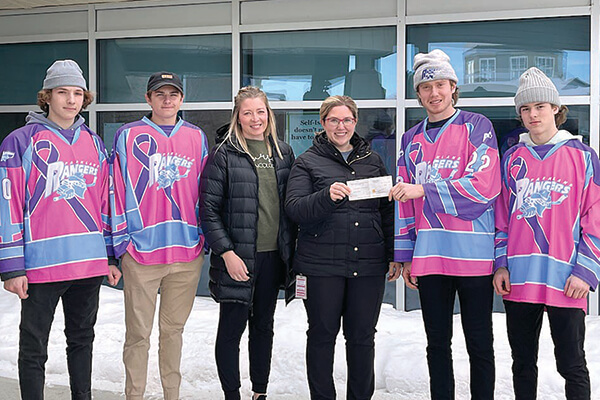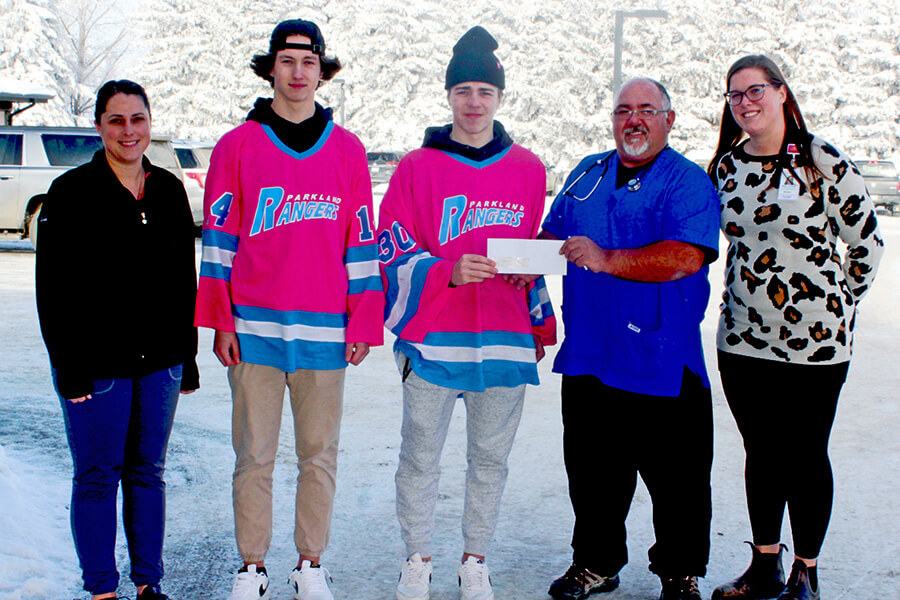 ---
Donation to Russell Health Centre
Darryl Fuz General Manager of the Paterson Grain Terminal in Binscarth presented a cheque for 10,000.00 to Care Team Manager Abbey Vorelick. The donation is from The Paterson Family Foundation. The funds are to be utilized for the 2023 year towards emergency care and services provided by the Russell Health Centre. Darryl stated that they chose to donate to the Russell Health Centre because of all the great work that is done. This is the fourth year in a row that Paterson Family Foundation has donated $10,000.00. This donation will be used to purchase a Glide Scope, the donation for the 2022 year from Paterson Family Foundation was used to purchase new treatment chairs.
All donations made to the Russell Health Centre are used to enhance the services, care and comfort of the patients and clients that access the Health Centre.