Back to School Lunches – Keep it SIMPLE
Safe – Make sure to wash hands and prep area before making lunches.  Keep cold food cold – use an insulated lunch kit with an ice pack. Keep hot foods hot – an insulated food container can keep soups, stews, curries etc. hot and avoid line-ups for a microwave. For more food safety information go to Food Safety (bccdc.ca).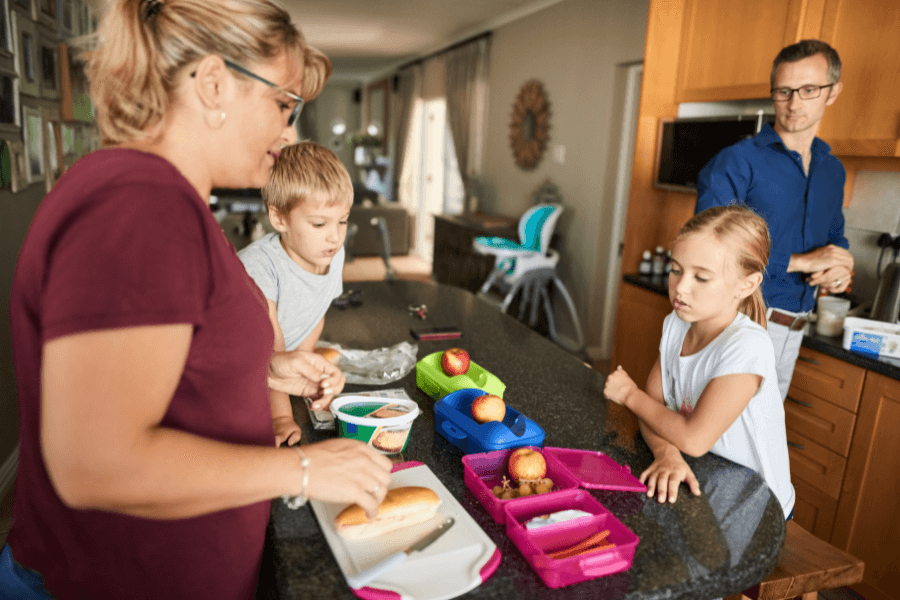 Ingredients – Include a variety of vegetables and fruit, whole grains and protein foods. This will provide the energy and nutrients children and youth need throughout the day to learn. Simple rule of thumb is to try to pack fruit and/or vegetables with each meal and snack. There are lots of options that can reflect taste, culture, and budget. See Canada's Food Guide for great tips and recipes.
Major source of nutrients for the day – Many children and youth spend a large portion of their day at school; packing enough and a variety of food is key. They need essential vitamins and minerals to grow and develop. Their appetites will differ sometimes daily depending on their rate of growth, activity etc. Some days they will eat a lot and sometimes a little. Trust them to eat as much or as little as they need.
Plan and Prep – Help children love their lunch by including them in the process. Make putting a lunch together simple by having a variety of prepped and ready to pack vegetables, fruit, whole grains and protein foods. Go through the grocery flier with children/youth and let them pick out a few items they would like in their lunch. This makes them feel like part of the process and can increase their food skills, get them to try new foods, and decrease the amount of food that comes home uneaten.
Let children and youth eat their lunch in whatever order they want to – Help them accept that there are different ways of eating and there is no right or wrong way. Asking children to eat one food before another reinforces that there are 2 categories of foods; good/healthy and bad/unhealthy. Labelling food this way can lead to feelings of guilt and confusion. This can interfere with their relationship with food. Foods cannot be neatly categorized. What is healthy and normal for one person might be different for another.
Enjoy! – Lunches should be enjoyable, try to pack a well-liked food such as an energy ball, mini chocolate bar, favourite dip, or a muffin. See Zack enjoy making his lunch here Healthy school lunch – YouTube
References: Healthy eating at school – Canada's Food Guide
Food and Body Talk: The power of language to shape children's mental health. Online course.