World Suicide Prevention Day
On September 10th, SPIN and Prairie Mountain Health acknowledge World suicide prevention day. This year's theme is Creating Hope Through Action. This highlights that our actions, each day, can connect someone to life and the help that they want to receive. We aim to work together to create a movement of preventative action to recognize the impact of suicide and ultimately, strive to prevent it. Small actions can make a huge difference.
World Suicide Prevention day is a time to connect and reflect, People in over 50 countries will recognize #WSPD. Every year, 160 million people world wide contemplated suicide and, tragically, 800,000 of them die by suicide. This means that more than 159 million people who survive a suicide related crisis every year. There is no reason that anyone has to die by suicide and, if we all do our part, we can prevent those deaths that do happen and the devasting impact that they have.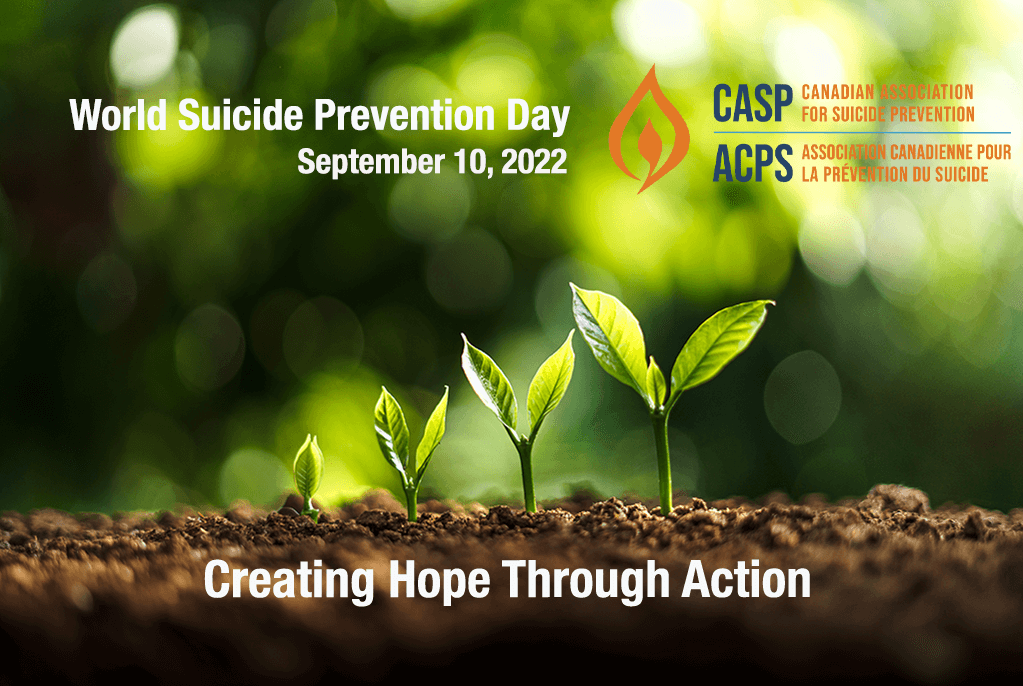 The power of coming together and reaching out to each other is immeasurable. Often, we fear intervening when someone is struggling, because talking about suicide is difficult. There are some things you can do. You can listen with a non-judgmental ear and remind the person that others care for them. Check in with people regularly to see how they are doing, listen supportively. You do not need to have all the answers. Be aware and introduce them to resources in the area. Let them know that they are not alone. It is a myth that talking about suicide will put the idea in their head.
Find events near you
Brandon: Friday Sept 9th come out to Princess Park in Brandon from 11:30am to 1:30pm. SPIN will be acknowledging WSPD by providing soup and bannock. Therapy dogs will be present. If it is raining the venue will be at the cultural center (638 Princess Avenue). Find details here.
SPIN is also doing a call for nominations to acknowledge anyone or organization that is making an impact for suicide prevention. Please email your nomination to: spinassistant2019@outlook.com Please include: Who you are nominating, the type of work they are doing. Why you feel they are deserving, and contact information.
Roblin, Swan River, Ste. Rose, and Dauphin: 'Chalk The Walk' September 9th – 11th. Use chalk to help beautify your community (driveways, sidewalks, etc.) with images & messages of Hope, Resilience, Suicide Awareness & Prevention. Go for a walk to see the images with a friend or family member and have the talk – chat about mental wellness.
SafeTALK Training: a FREE 3 hour in person training. This educational opportunity will help you to be ready to reach out to someone thinking about suicide, overcome attitudes that act as barriers to help, talk openly about suicide and identify and connect people to resources in your area.
Brandon – Thursday September 8th from 5pm to 8pm Elspeth Reid Family Resource Center. Space is limited, email spinassistant2019@outlook.com to register.
Roblin – Friday, September 9th from 9am to 12pm – Location To Be Decided. Contact Pamela Hansen to register – 204-937-3727 or phansen@pmh-mb.ca
Swan River – Friday, September 9th from 9am to 12pm – Swan River Veteran's Hall. Contact Olivia Acorn to register – 204-734-6684 or oacorn@pmh-mb.ca
We encourage people to place awareness messages or messages of resilience in their front window. Light a candle in the window at 8:00pm to show your support of suicide prevention, or to remember a lost loved one or for someone who is bereaved by the loss of a loved one.
For more information, have a look at these resources through the IASP website:
If you are struggling yourself or are concerned about someone else's suicidal thoughts, do not hesitate to reach out for help. You can contact the Manitoba Suicide Prevention and Support Line at 1-877-435-7170, a crisis line available 24 hours per day. A trained crisis worker will listen to you and direct you to the resources you need. Locally you can contact Westman Crisis Services at 204-725-4411 or 1-888-379-7699 in Brandon Area, or 1-866-332-3030 for PMH-North- In an emergency call 911 or contact a local hospital or health office.
Follow SPIN social media: Twitter: @brandon_spin Instagram: Spin_Brandon Facebook: spinbrandon