World Suicide Prevention Day | September 10

World Suicide Prevention Day is September 10. Across the Prairie Mountain Health region, numerous activities are planned for the week of September 10 to recognize the importance of suicide prevention strategies and remember those lost by suicide. The theme for this year's World Suicide Prevention Day is Creating Hope Through Action, as outlined by the International Association for Suicide Prevention.1
One in every 100 deaths worldwide is a result of suicide, and the impact of a person's death by suicide can be devastating and felt deeply by their support network. World Suicide Prevention Day is a chance to talk about suicide and realize that each of us can play a valuable part in preventing suicide, whether our actions are big or small. 2. Suicide prevention is everyone's business.
The power of coming together and reaching out is immeasurable. Often, we fear that intervening when someone else is struggling and asking about suicide will put the idea of suicide in someone's head. This is a myth.
Talking about suicide is difficult, but there are things you can do. You can listen to people with a non-judgmental ear and remind the person you care for them. You can check in with people regularly to see how they are doing and listen supportively. You do not need to have all the answers. You can let others know they are not alone. You can be aware of resources in your area and introduce people to those resources.
Some activities you can participate in:
Light a candle in your window to remember someone lost by suicide at 8 pm on September 10.
Chalk your sidewalk with hopeful messages, walk down these sidewalks with someone, and talk about mental wellness.
Take part in an awareness walk in your area.
Attend mental wellness education that could help you learn more about preventing suicide.
Events happening in some PMH rural and northern communities:
Chalk the Walk– happening in Ste. Rose, Swan River, Dauphin, and Roblin. Community members or businesses interested in participating can pick chalk up from their local HERO Club or Community Health office in Swan River, Roblin and Dauphin, and the Community Health office in Ste. Rose. Chalk the Walk does not have a set date and will run from September 4 to 11th in these communities.
Awareness Walks– happening in Swan River and Roblin. The Walk in Swan River will start and end at Co-op and occur between Noon – 1 pm on September 8. Roblin's Awareness Walk will start and end at the Roblin HERO Club (146 Main Street West) and run from 1 pm – 2 pm on September 11.
SafeTalk-workshops – happening in Roblin, Ste. Rose and Swan River on September 11. SafeTalk workshops in Swan River and Ste. Rose are from 1 pm – 5 pm and in Roblin from 9 am – Noon. If you are interested in registering, contact Lana Parker at lparker@pmh-mb.ca or phone 204-638-2118 ext. 1713. The cost to participate is $20.
Events happening in the Brandon Area:
The Suicide Prevention Implementation Network (SPIN) will host several initiatives from September 4 to 11th. SPIN will acknowledge World Suicide Prevention Day on September 8, 2023. Please follow SPIN on social media for event updates.
Chalk the Walk – SPIN hopes businesses and support services around Brandon will partner with SPIN in this campaign. If interested in participating, SPIN will provide chalk and corresponding marketing materials. SPIN asks that each organization start the initiative on their sidewalk with their message of hope, tagging @spin_brandon and encouraging clients/individuals within your business to participate. SPIN will re-share your posts to recognize your support. Please contact spinassistant2019@outlook.com to make arrangements to pick up chalk.
Clothing fundraiser – new SPIN signature sweaters and a special World Suicide Prevention Day t-shirt will be available. Funds raised will go towards providing Suicide Alertness training for the community. Please email spinassistant2019@outlook.com for more information or check SPIN social media for details.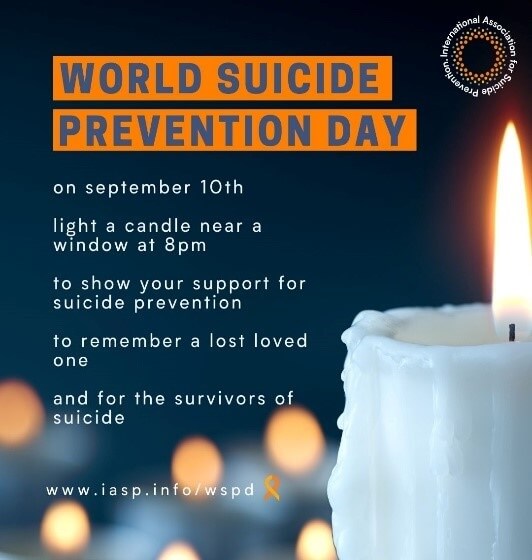 FREE 3-hour safeTALK training – Thursday, September 7, from 5 pm -8 pm. This educational opportunity will help you to be ready to reach out to someone thinking about suicide, overcome attitudes that act as barriers to help, talk openly about suicide and identify and connect people to resources in your area. SPACE is limited; register by emailing spinassistant2019@outlook.com
Community lunch/recognition event – Friday, September 8 at Princess Park, Brandon, from Noon- 1 pm. Tables and displays will be set up to acknowledge individuals and organizations working towards suicide prevention and life promotion in our community. You can also pick up chalk at this event.
Candlelight vigil – SPIN encourages people to participate in a candlelight vigil on Sunday, September 10, at 8 pm to honor loved ones who have died by suicide or been impacted by suicide. Pick up a candle and care package on September 8 at Princess Park between Noon-1 pm.
For more information on these or other regional events, please contact SPIN at 204-578-2599 or email info@spinbrandon.ca.

If you are struggling or concerned about someone else's suicidal thoughts, do not hesitate to reach out for help.

Contact the Manitoba Suicide Prevention and Support Line at 1-877-435-7170, a crisis line available 24 hours per day. A trained crisis worker will listen to you and direct you to the needed resources.
PMH Resources contact Westman Crisis Services at 204-725-4411 or 1-888-379-7699 in the Brandon Area or 1-866-332-3030 for PMH-North- Call 911 or contact a local hospital or health office.
COMING SOON: On November 30, 2023, the 988-suicide crisis line will be available to all Canadians in English and French, 24 hours a day and seven days a week. It will offer trauma-informed and culturally appropriate services by trained crisis responders by phone or text.
Prairie Mountain Health- North Mental Wellness and Crisis Resources
PROVINCIAL CRISIS RESOURCES
| | |
| --- | --- |
| Manitoba Suicide Line | 1-877-435-7170 |
| Sexual Assault Crisis Line | 1-888-292-7565 |
| Klinic Crisis Line | 1-866-367-3276 |
| Manitoba Farm & Rural Stress Line | 1-888-322-3019 |
| Manitoba Addictions Help Line | 1-855-662-6605 |
| Kids Help Phone | 1-800-668-6868 or text CONNECT to 686868 |
| First Nations & Inuit Hope for Wellness Help Line | 1-855-242-3310 |
| Reason to Live | reasontolive.ca |
1 International Association for Suicide Prevention. (2023). World suicide prevention day 2023. https://www.iasp.info/wspd/
2 International Association for Suicide Prevention. (2023). Resources: World suicide prevention day banners. https://www.iasp.info/WSPD/resources/