What You Can Do Heading into Respiratory Virus Season
Respiratory viruses are common, and they tend to spread more easily during cooler weather when Manitobans spend more time indoors with others. Viruses including Influenza (Flu) and Covid are contagious, and can have similar and overlapping symptoms.
People who have a respiratory virus often feel some or all of these symptoms: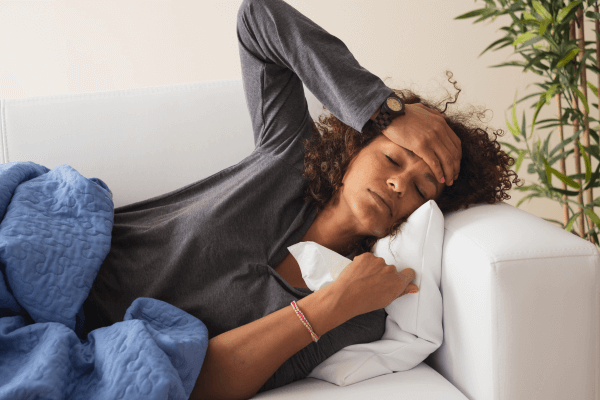 Fever or feeling feverish/chills
Cough
Sore throat
Runny or stuffy nose
Muscle or body aches
Headaches
Fatigue (tiredness)
Some may have vomiting and diarrhea (though more common in children)
Respiratory viruses can infect the nose, throat and lungs and cause mild to severe, and sometimes fatal illness. Most viruses are spread when people cough, sneeze or talk, and droplets land in the mouth or nose of nearby people. A person may also become infected by touching an object that has a virus on it and then touching their own mouth, nose or eyes. Young children, seniors, and people with certain health conditions are at a higher risk of respiratory illness complications.
The BEST ways to reduce your risk and potential complications:
Get vaccinated, stay home when sick, wash hands frequently, cover your cough/sneeze, and wear a mask in high-risk situations
This respiratory virus season, updated Covid and Flu vaccine doses are recommended for all Manitobans 6 months of age and older. It is especially important for individuals who are considered high risk, those over the age of 65, and children under 5 years of age.
Manitoba Health continues to offer Pneumococcal 23 and High-Dose (HD) Flu vaccines to people 65 years of age and older. Most adults over 65, without underlying health conditions, only require one lifetime dose of pneumococcal vaccine. The High Dose Flu vaccine contains more antigen that older adults need to build a strong immune response resulting in better protection against the Flu virus.
You can get your Flu, Covid and Pneumococcal vaccines at a local community clinic, pharmacy, or your Primary Care Provider. All vaccines can be given safely at the same visit. It is recommended to receive your Covid vaccine 6 months since your last dose. Talk to your health care provider to determine the best time for you to be vaccinated.
Prairie Mountain Health (PMH) Flu and Covid Vaccine Clinics will be starting October 23rd. For clinic dates and locations continue to check the PMH website and our Social Media pages (Facebook, Instagram, Twitter).
Once again, this year you will be able to book your vaccine appointment online or call toll free 1-844-626-8222.