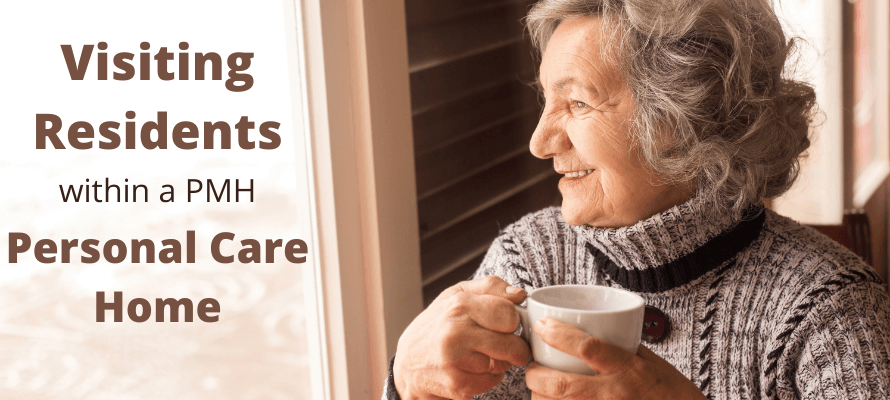 Prairie Mountain Health (PMH) recognizes the valuable role and importance visitation has within its health care settings. The challenges associated with COVID-19 meant social visitation within Personal Care Homes (PCHs) had to be altered and restricted to protect and keep safe, one of our most at-risk populations— residents within long term care.  Vaccinations have greatly improved the severe outcomes and spread with this highly contagious disease within long-term care settings.  With higher vaccination levels across the province, pandemic restrictions have eased over time and this has allowed increased social visitation measures to be implemented within personal care homes.
The provincial guidelines by Shared Health, which all PCHs in the province follow for visitation, are regularly reviewed and updated to provide additional access for in-person PCH visits.  The health region follows these and changes as they are released.  They are wanting friends and families to know what they can expect when planning to visit.  While the guidelines have changed some public health orders will continue to remain a focus such as social distancing, hand hygiene and staying home when feeling unwell.  Visitations always need to be scheduled at minimum 24 hours in advance of the visit.  The scheduling is needed to help us minimize the number of individuals entering for screening, signing in, assisting with masks and escorting to the visitation area by the scheduler.  At the time of this writing (Aug. 2021), these are some of the key guidelines for visitation.
General visitation
The increased social visitation guidelines associated with general visitors allows facilities to ask for a person's COVID-19 immunizations status when determining whether in-person/in room visits may take place.  This measure applies to being fully vaccinated (2 doses plus 14 days) for both the visitors and residents.  This proof of immunization is required.  In situations where either the resident/visitor or both are not fully vaccinated, indoor visitation continues to be restricted under general visitation guidelines.
Guidelines for the number of visitors and location of visits can still vary based on factors including the size of the room and a resident's current medical condition or vaccination status. Site screening and safety measures, including the wearing of masks, remain in place.
If unvaccinated, or partially vaccinated, general visitors still have the option of outdoor visits and/or the use of the CoVisitation shelters at PCHs.
For out of province, international and or children visitation, please contact the site Care Team Manger or nursing lead for further information.
Designated Family Caregiver visitation
There is no change in access to those members that have been named as designated family caregivers. Vaccination proof is not a consideration and PCH sites work with the family caregivers to communicate what they need to know when coming to the site, which includes things like wellness screening, continued hand hygiene measures and what medical protective equipment is required. The existing provision on end-of-life care considerations and exceptions also remains in effect at all health care facilities.
Staying in touch
As we continue to take every precaution to keep our PCH residents safe, one of the most important pieces of advice we can give at this time, is for would-be visitors to please check ahead with the resident's PCH prior to planning a visit. As general visiting logistics are regularly scheduled through a booking system the best approach is to contact the site first.
There is a list of visitors identified for each resident, so their name must be on the list.  Contact the PCH Resident or alternate decision maker to be added to the list of visitors. 
Every visit to a health care facility still brings with it the inherent risk of exposure or transmission of COVID-19.  Accordingly, PCH residents and their friends/ family can still consider virtual visits, where possible. 
PMH also has a "well wishes program" to deliver messages to family and friends who reside in personal care homes or who are in hospital within the region. The well wishes page has various templates you can select to recognize birthdays, special occasion days (like Mother's Day) or send a message that you are thinking about them.  You can access the program from the home page of the PMH website.
Additional information on visiting a PCH facility is available on the health region's website. 
Should you experience a concern with the visitation process, we strongly urge that you contact the site Care Team Manager/or nursing lead first.  If the concern has not been addressed, please contact the PMH Patient Relations Department at:
We thank everyone for their consideration, cooperation and patience as we all work together to provide a safe environment within our long-term care homes.