Time for Turnips
Some people may confuse turnips and rutabagas. The confusing thing is, depending where you're from, turnips might be called neeps, rutabagas, or swedes. The smaller, round, white and purple root vegetables are called "white turnips", while the larger, round, yellow root vegetables are "turnips", "rutabagas" or "swedes". Rutabagas are a cross between a turnip and cabbage. White turnips and rutabagas have different flavours as well.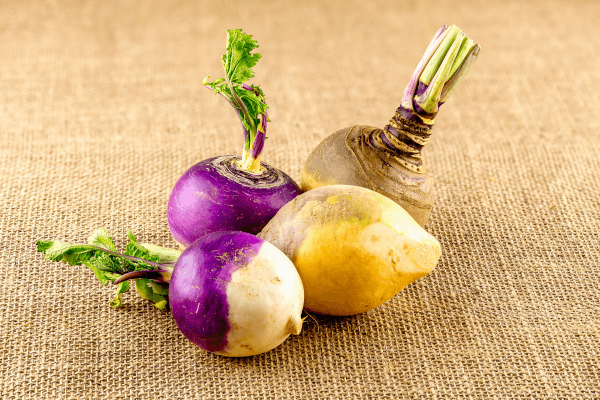 One of the great things about turnips is that both the greens on top and the root can be eaten. The greens have a similar flavor to mustard greens and are a rich source of vitamins K, A, C, and folate. The root has a high amount of water, with some carbohydrates and a moderate amount of vitamin C. Another great thing is that it is an incredibly versatile vegetable! Use turnips any way you use a potato, and then some! Try them baked, boiled, steamed, mashed, shredded, julienned, raw, roasted, and use the greens in any dish you would use cooked spinach or collard greens.
When buying white turnips, look for turnips that are small to medium in size, turnips that feel heavy for their size, and without soft spots or wrinkles. If the greens are still attached, look for fresh looking leaves. Unlike other root vegetables, turnips should be used up while they're fresh, as they can turn bitter and woody with age. Peeling off the skin of white turnips is optional, but yellow rutabagas need to be peeled.
Try these delicious turnip recipes
Simple Roasted Turnips (Freezer-Friendly!) – Spend With Pennies
Pan-Roasted Turnips with Greens Recipe | Kardea Brown | Food Network
Honey-Glazed Turnips, Parsnips and Pearl Onions Recipe | Food Network Kitchen | Food Network
Sheet-Pan Curried Chicken and Root Vegetables Recipe | Food Network Kitchen | Food Network