Steppin' Up with Confidence
November is Falls Prevention month and Falls Prevention can be fun!
Falls are the leading cause of death in Prairie Mountain Health. But here's the thing – they are often completely preventable. It's everyone's responsibility to prevent falls.
Let's talk Seniors. Steppin' Up with Confidence is an older adult exercise program offered in communities across PMH. Move your body! It is one of the best ways to prevent a fall. Here's how: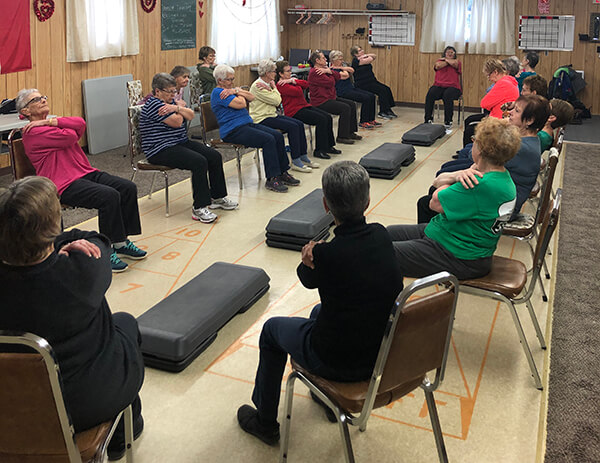 Better Balance – keeping those little stabilizing muscles in your body alert to help you stay balanced in day to day activities like walking to pick up the mail on a cracked or slippery sidewalk.
Muscle Endurance – a few trips from the house to your car getting packed to go visit your grandchildren, carrying multiple items, possibly up or down a couple of stairs takes some stamina! Keep that oxygen flowing through your blood and into your muscles to help them work and make life a tad easier.
That Double 'S' – STRONG muscles around your core and joints provide SUPPORT to move with ease in a larger range of motion. Oops, you had a fall?! Those well supported hip and shoulder joints and strong limbs can help you to crawl to a chair and get back up. Not to mention the stability in your midsection from your regular exercise that helps in every single movement your body does.
Stretchy flexy – take care of those valuable muscles you have in your body by stretching them. Flexibility helps reach that top shelf in the pantry or bend over into the freezer, twist while you move clothes from the washer to the dryer or get up and down off the floor to play with a pet or new great grandchild.
Movement is much more than 'just a workout', it's a tool to assist us as we age to continue being able to do the things we like to do and take care of ourselves.
Steppin' Up with Confidence is a free, peer-led program offered for 1 hour once per week. And even more than some exercise and falls prevention, it's fun. Take a friend or meet someone new in the group, maybe you would even like to be a leader!
For more information on Steppin' Up, to find out if there's a program near or in your community or find out about becoming a leader, contact:
Sydney Lochhead, Health Promotion Coordinator
204-523-3224 // [email protected]
Falls Prevention is an important topic for all ages, not just seniors. Check out these PMH Resources to learn more.