Healthy Babies
Prenatal Services
Talk to a Public Health Nurse – If you have questions about pregnancy and birth, please contact your local Public Health Office. A Public Health Nurse will speak with you, to provide information and resources.
Education is also available in Spanish and Mandarin.
Baby's Best Chance – Parent's Handbook of Pregnancy and Baby Care. Baby's Best Chance is a Canadian Prenatal resource. This handbook covers pregnancy, labour and delivery, breastfeeding, postpartum changes, and parenting.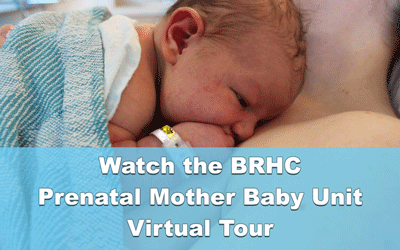 BRHC Prenatal Mother Baby Unit Virtual Tour – A 20 minute video of the Mother Baby Unit located at the Brandon Regional Health Centre.
This virtual tour takes you through the journey of when you go into labour, arriving at the hospital to being discharged and the follow up care you can access once you are home.
Healthy Baby Program – A drop in program where you can ask questions about pregnancy and learn about prenatal health, meet other parents, enjoy a healthy snack and do activities. These sessions are available in communities throughout PMH.  Explore our Public Classes page and view the latest Healthy Baby schedule.
Feeding – Make an informed decision on how to feed your baby.
Additional Resources
Midwifery Services
Read more about Midwife services in Prairie Mountain Health.
Postpartum Support
Public Health Nurses throughout Prairie Mountain Health provide support, assessment and education to new families through telephone contact and/or home visits after leaving the hospital. The nurse provides support and information to new mothers and families on maternal and infant care, breastfeeding, infant feeding, attachment, parenting and family adjustment.
For more information, please contact your local Public Health Office.
Child Health Clinics
Public Health Nurses provide education and counselling regarding child care, nutrition, safety, breastfeeding, parenting and community resources. Immunization is offered according to the Manitoba childhood immunization schedule. Immunization is offered according to Manitoba's Routine Immunization Schedule for Infant's and Pre-school Children.
For more information or to schedule an appointment, please contact your local Public Health Office.
Immunization Information
Nutrition and Feeding Information
Breastfeeding Support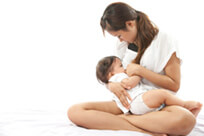 Public Health staff promote and support breastfeeding families. Many Public Health staff have specialized training related to breastfeeding.
Health Canada recommends infants receive only breastmilk until 6 months of age, and that breastfeeding with appropriate complimentary foods continues up to two years of age and beyond.
Breastfeeding is healthy, free, natural, and convenient. Breastmilk contains antibodies that lower the chance of your baby getting sick.
Contact your local Public Health Office for a Public Health Nurse.
For more information on breastfeeding your baby, please see the following resources:
Healthy Baby Program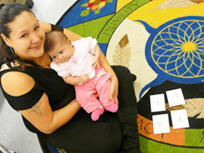 The Healthy Baby Program supports pregnant women and parents with babies up to one year of age through the Healthy Baby Prenatal Benefit and Community Support Programs.
Healthy Baby Prenatal Benefit
Families may be eligible to receive a monthly cheque to assist with the purchase of healthy foods throughout pregnancy.
Community Support Programs
Healthy Baby groups are offered in many communities throughout Prairie Mountain Health. They provide support and information sessions for pregnant women and families with children less than one year of age. Childminding for older children may be available. Healthy Baby community support programs also offer a healthy snack and milk coupons (up to 16 litres) for prenatal women and postnatal families with babies up to six months of age.
Please visit Healthy Child Manitoba for more information on sessions near you and/or an application for the Prenatal benefit.
For more information, please contact your local Public Health Office.
Families First
Families First focuses on building strong family relationships, enhancing parenting skills, fostering healthy growth and development, and connecting families to resources. The Families First program offers information to the prenatal and preschool population on parenting, growth and development, early child development, attachment, health, safety and nutrition. Some families are offered a home visiting program where ongoing contact and support can occur for up to 3 years in the home. This service is available for families with children prenatal to 5 years of age.
Learn More: Healthy Child Manitoba – Families First
Please contact your local Public Health Office for more information about services and resources for your family.
Parent Child Coalition Program Partnerships
Parent Child Coalitions are funded by Healthy Child Manitoba. Coalitions bring together individuals and organizations that have a vested interest in healthy families and optimal child development and are interested in working with parents, caregivers and service providers to support families and their children.
Coalitions support existing programs and activities within communities and initiate new activities that reflect each community's diversity and unique needs.
Coalitions offer parent-child programs for families with children 0-5 years old, which focus on learning and literacy, physical activity and nutrition, and parenting.
Learn More online:
Learn About Coalitions in or close to Your Community