November is Falls Prevention Month
November is also one month until Christmas! Do you have difficulty knowing what to buy loved ones for Christmas? Do you have people on your Christmas list who have everything already!? This holiday season, give your loved ones gifts that help promote safety and prevent injury. 
In an article for The Citizen, Marguerite Thomas lists great gift ideas from the Fall Prevention Community.
For those travelers in your family, consider;
Emergency kit for the car
Car blankets and extra warm clothing such as mitts and toques
Cellular phone or calling card
Taxi vouchers
Non-alcoholic beverages for holiday celebrations when away
Subscription for a travel protection plan
Extra night lights/flashlights for when staying at hotels or bedrooms away from home
Gift ideas which help prevent unintentional falls: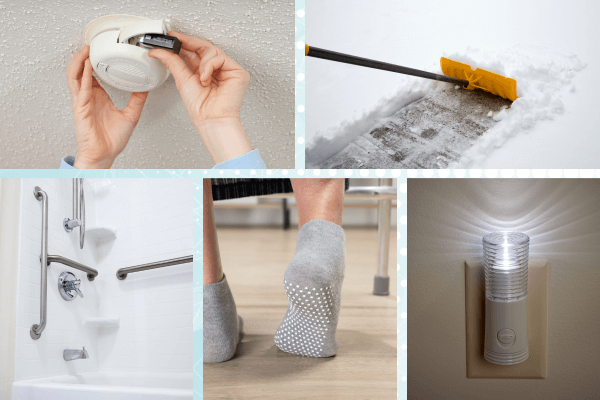 Cordless telephones
Personal protection alarm
Walking/trekking poles
Grip bars for bathtub and toilet
Small clothes baskets or carriers which avoid awkwardness and overbalance
Non-alcoholic beverages for holiday celebrations at home
Specialty safety items from your pharmacy or therapy retailer (ex. Reacher for reaching high places or items on the floor)
Assistive devices ranging from canes to wheelchairs
Flip down ice picks for canes
Gift of snow removal service
Boots with a good grip on the soles. Or ice grippers to use with the boots you already have
Gift certificates for sturdy walking shoes and snowshoes
Warm outer clothing
Housecoats short enough to prevent tripping
Firm slippers with a non-slip sole
No slip socks
Bag of salt/sand mixture, kitty litter or special de-icer friendly to shrubs and sidewalk
Nightlights in home bathrooms and bedrooms
Smartwatch that has fall detection
Smart lighting for the home that can turn off/on with your smartphone app
Items that protect everyone in the home include:
Smoke detectors or batteries for the smoke detector
Safety items for the stove, fireplace or BBQ, including oven mitts
Safe and sturdy step stools or ladders
Renovation of unsafe stairs or any other hazards in the home
Repair of any wobbly furniture
Bath mats or adhesives to avoid slipping in the tub
Floor mats with non-slip backing/suction for inside or outside the tub to absorb moisture and prevent falling
Bright light bulbs
Replacement of any electrical appliances that need a new cord or plug
Welcome mats and large indoor mats or trays to absorb moisture from wet boots
Motion sensor lights for outside
Did you know Prairie Mountain Health has various resources and information on fall prevention, including videos, Fall Risk Checklists, How to Prepare for a Hospital Stay and exercises to help reduce your risk of falling? Visit our website for resources.