Neepawa Eats Healthy – Meal In 30 Project
The Neepawa Eats Healthy Committee is excited to be introducing the Meal in 30 Project – A partnership with local community groups, agencies, Prairie Mountain Health and the Neepawa Gladstone Co-op and Neepawa Safeway Grocery stores.
March is Nutrition Month and Neepawa Eats Healthy is launching "Meal in 30" kits on March 1st, 2023 at the participating grocery stores. Shoppers can look for the featured "Meal in 30" recipe, try it at home, tell the committee what they think by answering a short questionnaire and have a chance to win a grocery prize pack at the end of each month. The project will also run during the months of April and May.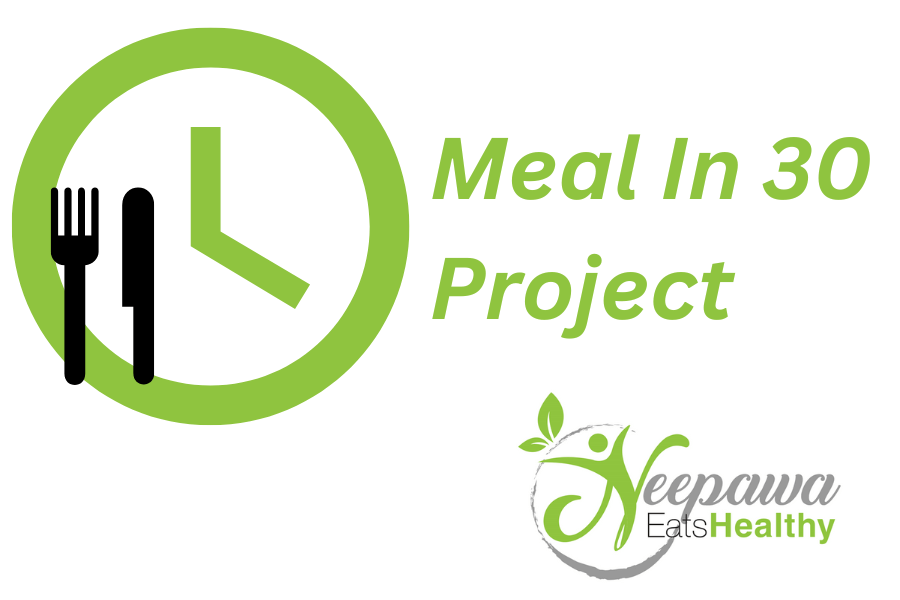 Neepawa Eats Healthy is a group of dedicated partners representing local organizations and community members working together to improve healthy eating outcomes in the community.
"The goals of this project are to encourage local community members to cook and prepare healthy, budget friendly meals at home, build food skills, eat healthy and shop local" commented, Amanda Naughton Gale, committee member of the Neepawa Eats Healthy group.
During the next 3 months, shoppers in Neepawa can look for a recipe of the month that is quick and easy, includes vegetables and/or fruit, has easy substitutions (based on some basic shelf ingredients) and is budget friendly!
Brittney Bartecki, Registered Dietitian from Prairie Mountain Health is also part of the Neepawa Eats Healthy committee and is also excited about the project. "We are encouraging our community to find ways to cook more at home, experiment with new recipes and have some fun in the kitchen! Hopefully helping to take some guess work out of meal planning by helping to add a few new meal ideas into your week."

Here is how everyone can get involved:
Pick up the monthly featured recipe at Safeway or the Neepawa Gladstone Co-op
Look for the Tagged food Items with the Neepawa Eats Healthy Logo on the grocer shelves
Take home and cook up your tasty meals / once you are done….
Scan the recipe QR code to complete a short survey for a chance to win a free grocery pack drawn each month.
By picking up the Meal In 30 recipe card and purchasing at least 3 of the featured items, people will also receive a Neepawa Eats Healthy Reusable Grocery Bag (while supplies last!)
The committee is excited to have the participation of the Neepawa Titans supporting this project.  Players from the local hockey club spent a day in the kitchen acting as guest cooks for the 3 recipes that will be featured on the local Access 12 station, helping to create awareness and encourage everyone to get involved. "Their participation has been lots of fun and we hope the community will get behind the project and will try the featured recipe over the next 3 months," commented Bartecki.
For any questions about this project please contact Sherrill-Lee Hyra, Health Promotion Coordinator, Prairie Mountain Health at shyra@pmh-mb.ca or call 204-578-2192.