My Patient Passport
A communication tool for patients and family members to keep track of health information and share with health care providers.
Prairie Mountain Health strives to create tools and resources to help patients and families engage with their health care provider. The first tool we are sharing is My Patient Passport. You will hear the term patient and public engagement, this refers to the opportunity where patients, families and members of the public are encouraged to be active partners in their own clinical care and self-management. This passport will help do just that.
My Patient Passport is a booklet to help patients and family members to keep track of health information and to share this information with their health care providers. Use this passport to record and organize your healthcare journey.
This passport is owned and managed by the patient.
Tips on how to use your patient passport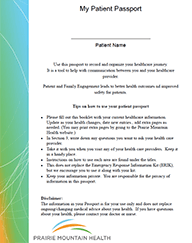 Fill out the booklet with your current healthcare information. Update as your health changes and date new entries.


Take it with you when you visit any of your healthcare providers. Keep it in a handy place.


Keep your information private. You are responsible for the privacy of information in this passport.
Finding new ways to work together is essential and an ongoing goal for Prairie Mountain Health and the region wants to ensure that the needs of patients and families are at the centre of all care.
A copy of My Patient Passport can be found at all Prairie Mountain Health facilities. Copies are also available at participating physician clinics and pharmacies within the region.