Mobile food cart cues up better choices within personal care homes
Prairie Mountain Health (PMH) is excited to try new approaches to enhancing dining experiences within its long-term care homes. One such improvement was the introduction of a "Suzy Q Cart" within Birtle Personal Care Home (PCH) in late 2022. This mobile cart keeps food hot (or cold for cold meals) and allows Nutrition services staff to bring the food to the table. Residents can see and smell the food and are offered a choice of which food items to have and how much they wish to eat. The food is served at the right temperature right from the cart.
Before Suzy Q, staff prepared meals for residents based on previously communicated preferences. One dining room received meals on trays. Nutrition services maintained lists of likes/dislikes and tried hard to ensure the food met the residents' wishes. However, food was often wasted as, like all of us, residents may not feel like eating the option or the amount provided. Sometimes food was cold by the time residents arrived to eat.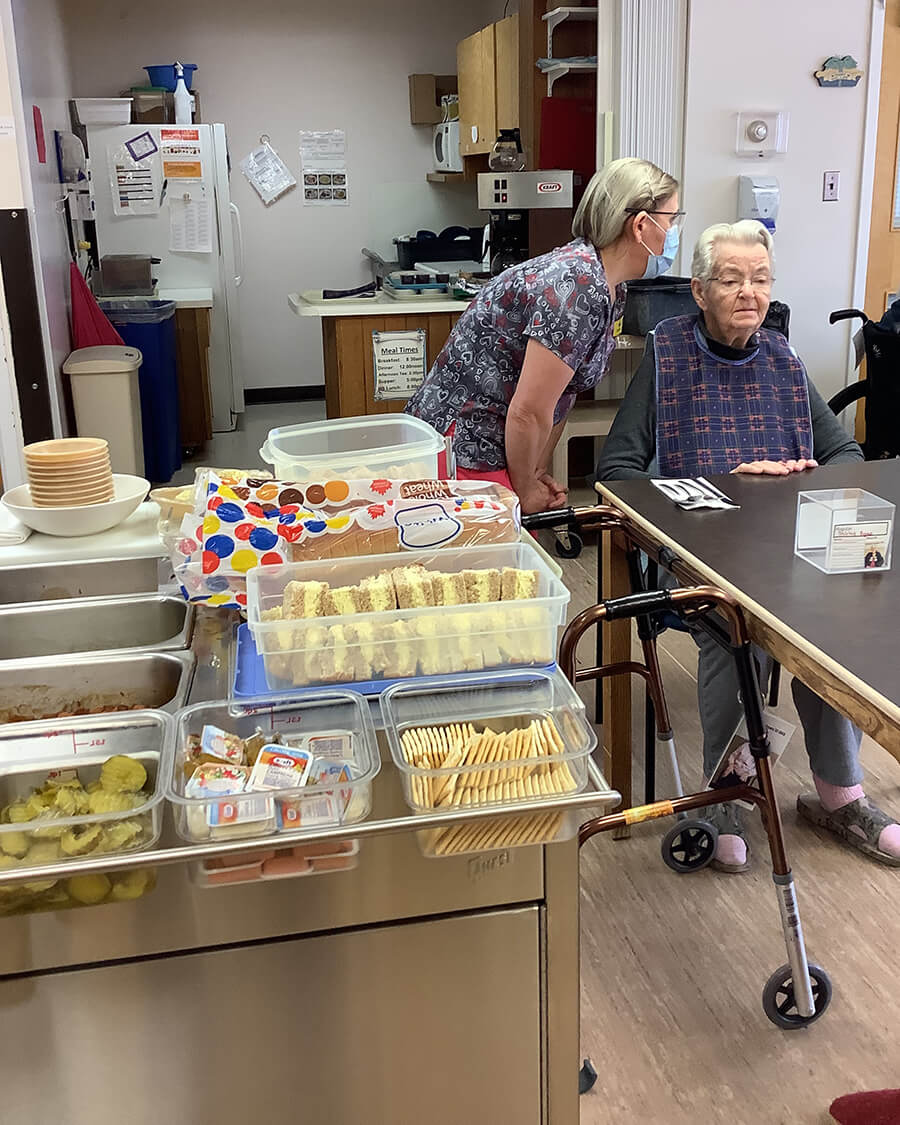 A lot of work went into the transition to this style of dining. Maintenance staff installed the correct electrical work. Nutrition services revised workflows and experimented with different cart setups and forecasts of resident choices. Staff also stopped closing the dining room and offered beverage choices as residents arrived. Health Care Aide staff also changed their flow assist with meal set up in the dining room.
Staff at Birtle PCH already knew their residents well, but this dining style encourages staff and resident communication. The first week, staff were surprised to see residents' choices. One resident said, "Suzy Q cart is a great idea." One resident who always had hot cereal chose cold cereal, and one who never ate vegetables chose vegetables. One resident who could not communicate verbally could choose the soup when staff wrote down the two choices.
The meal service doesn't take long, which is one worry staff had prior. However, staff are far more interactive with the residents when they are in the dining room. Already, staff notice they have less food waste. Food leftovers are safely cooled and used as a second option the next day, just like at home. The site has been going through a lot of tomato juice, a popular beverage choice.
Ultimately, Suzy Q style dining is not so much about the cart but is about respect and dignity, honouring the residents' choices and building relationships with the residents.
Within PMH, four more PCHs will be introducing Suzy Q carts later this year, and several others are introducing additional options, such as cold beverage choices.