Mobile Addictions Clinic Pilot Project Underway in PMH
March 15, 2023
In partnership with Health Canada and Shared Health, Prairie Mountain Health has commenced a pilot project to further enhance access to addictions services within the health region. With the support of $897,416 from Health Canada's Substance Use and Addictions Program (SUAP), and in collaboration with local health partners and stakeholders, PMH is offering mobile Rapid Access to Addiction Medicine (RAAM) clinic days in three communities: Wuskwi Siphik (weekly) and Russell and Virden (bi-weekly).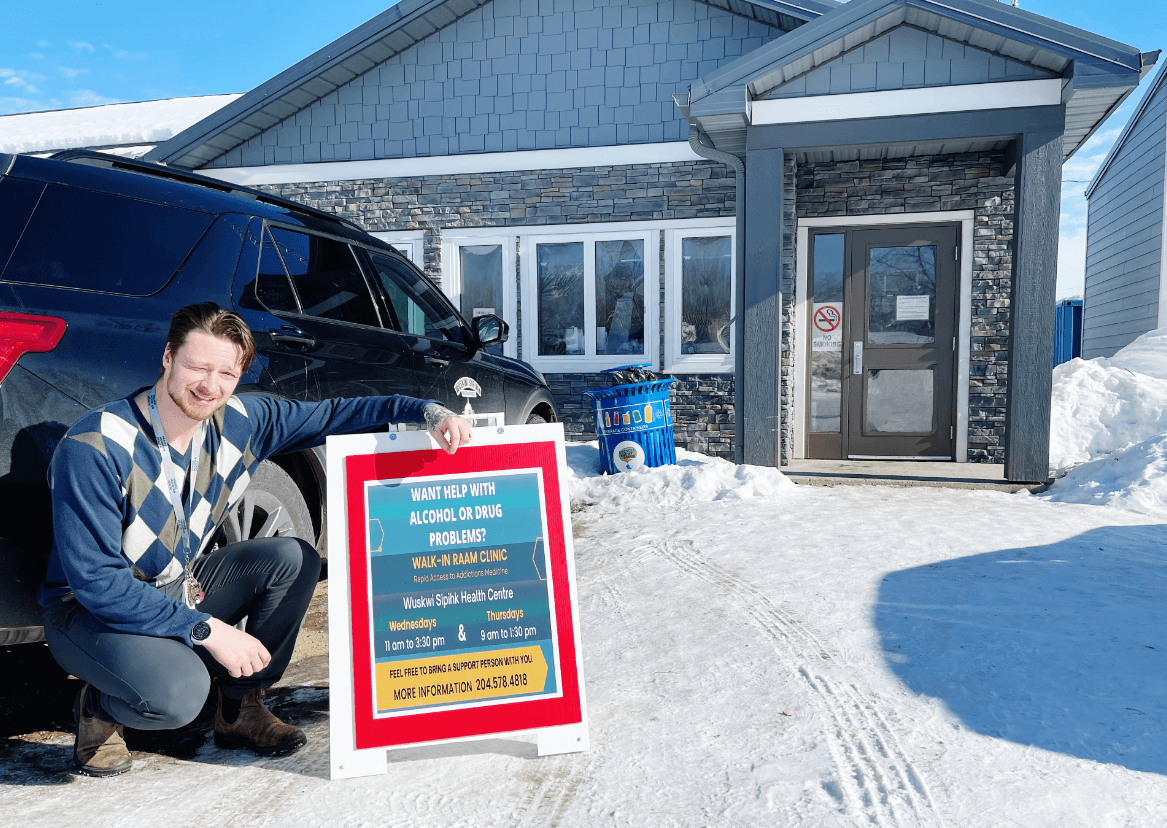 Mobile RAAM Clinics feature a staffing complement consisting of a physician, nursing staff, rehabilitation counsellors, and administration support. On clinic days, nursing staff and rehabilitation counsellors, with experience in harm reduction, will travel to the local health care clinic to provide services. A physician will be present (in-person or by virtual means) on the first day of each clinic in each community.
The team clinic approach supports 'in-community' services and builds capacity for local primary health-care providers to manage ongoing treatment of all substance use disorders, including the use of Opioid Agonist Therapy (OAT).
The mobile clinic project is an extension of the RAAM model, first introduced to Manitoba in 2018. Service delivery is based on improving access to addiction medicine through low barrier walk-in clinics. People can visit to get help for substance use without an appointment or formal referral. There are currently six site-based clinics located in Manitoba, including one in Brandon at the 7th Street Health Access Centre.
To view the RAAM Clinic schedules within Prairie Mountain Health, visit the PMH website here.
Making a Difference in our Communities
I feel the Mobile RAAM Clinic pilot project in our community is truly a blessing!
With the assistance of PMH and the clinic staff we can help our community members to survive and possibly live a longer life. The mentoring that is being provided to our Nurse Practitioner will give her the ability to assist our members in the areas of harm reduction. She will also be able to manage ongoing treatment of the substance disorders for our clients. We are very grateful for this opportunity to help our community members in need. The PMH staff, doctors and nurses are very friendly and wonderful to work with. The community members are very grateful to have this health project in our own community.

Cynthia Munro – Health Director, Wuskwi Sipihk First Nation
As the physician on the ground for the project, I'm very glad to have the institutional backing to provide care directly to populations most affected by the stark economic realities of travelling for healthcare in rural Manitoba. I'm excited by the connections we're forming with health-care providers in very small communities, which are increasing their ability and confidence to care for challenging and complicated patients. If we're lucky and committed, we can create a robust integrated network of addictions care throughout the region appropriate for our geography and social circumstances.

Dr. James Rae, Mobile RAAM Clinic Physician, PMH
As someone who has worked in addictions for over eight years, I am most enjoying the medical support of the Mobile RAAM team. The mobile RAAM clinic offers an opportunity for people to reach out and receive support when they need it. There is no waiting weeks for appointments in order to start the process and people come in when 'they' are ready to explore or begin the process of change.
Having the opportunity to speak with a counsellor, nurse, and physician in one location on the same day helps to manage the significant transportation barriers we see in our rural communities.

Christine Little, Rehabilitation Counsellor, Mobile RAAM Clinic – Virden, Russell
Being able to reach people a little closer to home who aren't able to get themselves to a larger center like Brandon on a regular basis due to distance. I've enjoyed being able to see this service expand into rural communities where services like this are nearly non-existent.

Lynsey Jensen, Nursing Staff, Mobile RAAM Clinic – Virden, Russell
In working collectively with the Mobile RAAM team, we've had the ability to harness our own unique knowledge and strengths, while providing a service that is fluid and supports the autonomy of each individual we work with. I continue to learn so much from my team, and am so grateful for the support I receive from each of them. We have also had the opportunities to collaborate with different agencies, which has supported our ability to increase substance use treatment education in the community, enhance service opportunities, and build opportunities to overcome barriers and bridge gaps in services for those accessing substance use treatment and care. In bridging gaps and building connections with our clients as we support them holistically in making positive, we ensure no one is lost within the gaps, providing greater access to increased levels of success for each individual. In a short time, I have already witnessed the positive changes our program has provided and look forward to the months to come as we continue to expand our program to an exceptional capacity!

Sesley Sloboda, Rehabilitation Counsellor, Mobile RAAM Clinic – Wuskwi Sipihk First Nation