Mental Health is Everyone's Story

"Today is where your book begins / The rest is still unwritten" – Natasha Bedingfield
Since 1951, The Canadian Mental Health Association has hosted Mental Health Week, which takes place annually during the first week in May. In 2023, Mental Health Week will take place from May 1st until the 7th, and the theme this year is "My Story." The choice of My Story highlights the reality that we all have a mental health story that we can share, which evolves. This story is shaped by many forces, notably the emotional and practical support that we receive in our lives, which guides us, protects us, and elevates us, along with our resilience and coping tools and the resources and programs we utilize in our communities. Learn more about Mental Health Week here.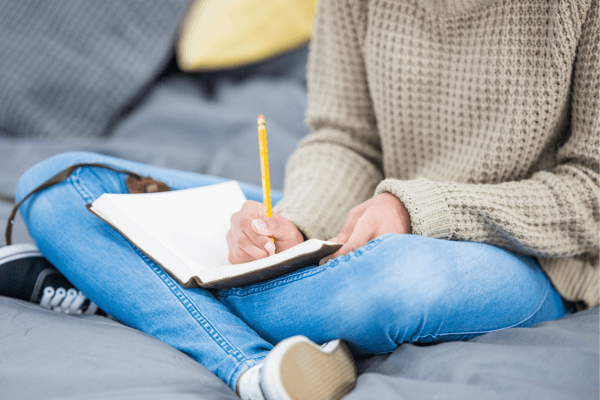 The emotional benefits of storytelling and journal writing are well documented in the scientific literature. The act of writing something out makes it more tangible; what existed as internal and hidden can be expressed, seen, heard, and with that, perhaps easier to manage or put away, if needed. We can organize our thoughts, and review our story, reflecting on our resourcefulness and fortitude. There is also the importance of sharing one's journey with others. A story can be told in many ways, through a speech, conversation, written story, poem, painting, video, or song, to name a few. It is not just the act of telling or writing but knowing that what you share will be read or viewed by others and the hope that someone else might be inspired or helped by your story. For those on the receiving end, listening to others' stories can also be validated in that we may be experiencing similar concerns, overcoming similar obstacles, and perhaps have similar circumstances. By witnessing someone else's story, we also learn from their wisdom and experience. Sharing one's mental health story is one of the most effective ways to reduce stigma (other or self) toward people who experience mental health issues. It may also remind those going through challenging times that there is light and hope.
In her research on the benefits of sharing one's story, Dr. Sherry Hambe, Clinical Psychologist and Director of the Life Paths Research Program at the University of the South, offers the following points:
Realizing that sharing your story can help others. This can be especially powerful for people who do not always feel that they have the chance to support others on their journeys.
Finding your voice. Expressing yourself and thinking about what has happened in your life in a way that makes sense. It helps to think about how the various events—even the distressing ones—have been part of a journey toward the person you want to become.
Re-affirming your values and priorities. The act of expression can be a way to clarify what is important.
Finding peace, finding hope. People who have shared their stories often find a sense of peace, well-being, and freedom and a way to let go of elements that hindered them, such as anger or guilt.
Despite the many benefits of storytelling, it is important to remember that your story is shared in a manner, a platform, and an audience that is safe and trustworthy. Also, share your story from your viewpoint and that you are talking about yourself. Please refrain from talking about others unless you have their permission, and even then, keep it about you. It is also best to think about your boundaries before telling your story. There may be aspects of your story that you wish to keep private. You do not have to tell all of your stories or answer questions you do not want to answer. Finally, telling your story may be an emotional experience, and it is important to have support to lean on during and after the storytelling process.
For more information on how to tell one's mental health story, visit the "Sharing Your Personal Story- Speaker's Toolkit".
Although beneficial, telling your story does not replace seeking help. If you or someone you know is experiencing mental health concerns, the following services are available in the Prairie Mountain Health Region:
CRISIS – SOUTH DISTRICT (formerly Brandon, Assiniboine)
Adult crisis line, 24/7: 1-888-379-7699
Youth Under 18 crisis line 24/7: 1-866-403-5459
Crisis Stabilization Unit: 1-855-222-6011 or 204-727-2555
Mobile Crisis Services: 204-725-4411
CRISIS – NORTH DISTRICT (former Parkland)
Adult and Youth Crisis Line, (24/7): 1-866-332-3030
NON-CRISIS – SOUTH
Adult Community Mental Health Intake: 1-855-222-6011 (M-F 8:30-4:30)
Youth (17 and under) Community Mental Health Intake, see resources here.
NON-CRISIS – NORTH
Mental Health Intake (all ages)

Roblin: 204-937-2151
Ste. Rose du Lac: 204-447-4080
Swan River: 204-734-6601
Dauphin: 204-638-2118
Learn more about accessing Mental Health Services here.