It's Zucchini Season!
Zucchini is a resourceful vegetable that can be enjoyed on its own or added as an ingredient in dishes. It is mild in flavor. It does not overpower other tastes and makes a great addition in spaghetti sauce and stir fries. Zucchini is known for its high moisture content and it is a star ingredient in baking such as zucchini bread and cake.
Fresh zucchini can be frozen to use at a later time. Check out Getty Stewart's website for tips on freezing zucchini
Have you been gifted a zucchini from a neighbor or have an overstock of zucchinis from your own garden? If so, give this recipe a try!
Zucchini Bread
This zucchini bread makes 2 loaves so you can eat one now and freeze the other one for up to 3 months in the freezer.
Tips:
To add more moisture to the bread you can add another ½ cup grated zucchini and/or add 2 heaping tablespoons of low-fat sour cream.
If you like a sweeter loaf, use 1 and ¼ cups of lightly packed brown sugar. If you enjoy a less sweet bread, use ¾ cup sugar.
You can jazz up the zucchini bread with nuts, chocolate chips or even blueberries.
Ingredients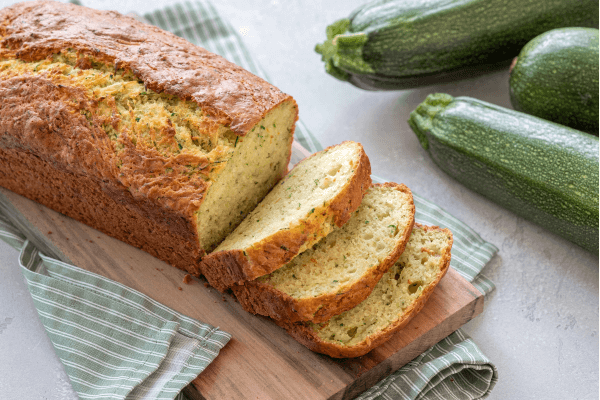 3 cups all-purpose flour
½ teaspoon salt
1 teaspoon baking powder
1 teaspoon baking soda
2 teaspoons ground cinnamon
3 large eggs
1 cup vegetable oil
¾ – 1 ¼ cups lightly packed brown sugar
2 teaspoons vanilla extract
2 ½ cups packed grated zucchini (do not drain)
½ cup grated zucchini (optional)
2 heaping tablespoons low fat sour cream (optional)
¾ cup chopped walnuts or ¾ cup chocolate chips (optional)
Directions
Preheat oven to 350 degrees F (165 degrees C). Generously grease two 8×4-inch pans.
Sift flour, salt, baking powder, baking soda, and cinnamon together in a large bowl.
Beat eggs, oil, sugar, vanilla and sour cream together in a separate large bowl until mixed
Stir in zucchini.
Add flour mixture to wet mixture and stir just until combined (batter will be thick).
Add walnuts or chocolate chips. Pour batter into the prepared pans.
Bake in the preheated oven until a toothpick inserted into the center comes out clean, about 50 minutes.
Cool in the pans on a wire rack for 10-15 minutes. Run a table knife around the edges to loosen. Remove loaves from pans onto a wire rack and let cool completely.
Submitted by Vanessa Hamilton, Registered Dietitian/Healthy Living Facilitator