International Day of People Impacted by Suicide Loss – Nov. 19, 2022
Losing someone to suicide is a unique loss and can lead to several conflicting feelings and many unanswered questions. There is no one way to feel or grieve a death by suicide – we all react and grieve differently. It is important to remember that you are not alone – that suicide impacts more people than we often know about.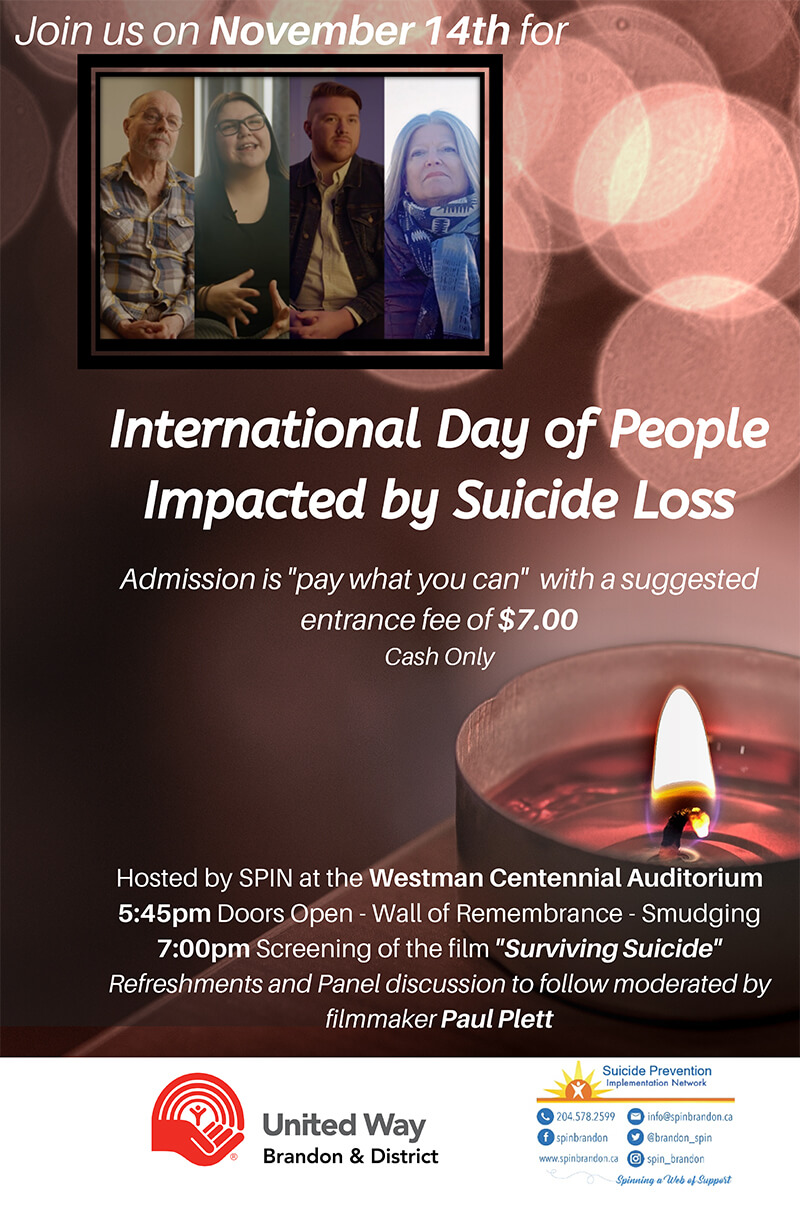 International Day of People Impacted by Suicide Loss is an annual event in which survivors of suicide loss come together to find connection, understanding, and hope through their shared experiences.
The Suicide Prevention Implementation Network (SPIN) is hosting an in person event for everyone in Brandon and Area to attend.
Please join SPIN on November 14th 2022, at the Western Manitoba Centennial Auditorium, Brandon Manitoba, as we host the International Day of People Impacted by Suicide Loss.
Doors open at 5:45pm for viewing a wall of remembrance/ community booths, and mingling
At 7pm: Screening of the film Surviving Suicide, a documentary exploring the lives of 4 individuals living in Canada who have an intimate relationship with suicide. Throughout the film, we get to know these people, the role that suicide has played in their lives, and the life that they have found after Surviving Suicide.
7:45pm: Post-screening discussion moderated by filmmaker, Paul Plett, with panelist Bonnie Bricker (featured in the film)
Admission: Donation based/ pay what you can (cash only). If folks cannot afford the recommended $7 cost of admission, please donate what you can afford. If you are able to give more than $7 you are helping others to attend.
"Eliminating stigma and talking about suicide by the people left behind allow not only for healing but for further education and advocacy in the name of suicide prevention and life promotion." Sean Krausert, Executive Director of CASP
SPIN social media: Twitter: @brandon_spin | Instagram: Spin_Brandon | Facebook: spinbrandon
If you are struggling yourself or are concerned about someone else's suicidal thoughts, do not hesitate to reach out for help. You can contact the Manitoba Suicide Prevention and Support Line at 1-877-435-7170, a crisis line available 24 hours per day. A trained crisis worker will listen to you and direct you to the resources you need.