Food strategies to fight inflation
Feeling deflated with how prices have inflated? Try these strategies to help your food dollars go further.
Make a menu and stick to it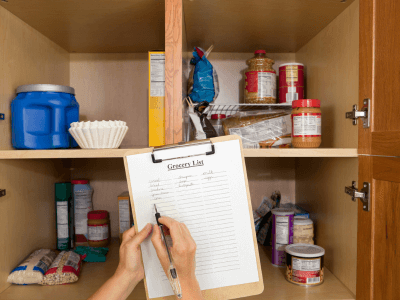 Take stock of what you have in the fridge, freezer and pantry. Use what you have and what's on sale to plan your main meals for the week.
Plan some plant-based meals
Manitoba is the second largest producer of dry beans in Canada (1)! Dry beans are an excellent source of protein, fibre, vitamins and minerals. Drain and rinse a can of beans to top a salad, stir into a soup or replace ground meat in your favorite pasta sauce. Try out the black bean and corn salsa recipe below as a topper for tacos or transform the leftovers into a topper for scrambled eggs or just enjoy on its own!
Shop with the seasons
It pays back in price and quality to shop in season. Summer is bursting with cherries, berries, cucumbers, tomatoes, peppers, peas, beans and more. In colder months, take advantage of produce that stores well like apples, cabbage, carrots, and potatoes. When on sale, stock up on frozen, canned and dried options to take the place of fresh in off seasons or between grocery shopping trips.
It doesn't have to look perfect to taste great
Combat food waste and rising cost by taking home less than perfect looking produce from grocery store clearance sections, apps like Flashfood or dedicated store fronts like the Food Rescue Grocery Store in Brandon. Imperfect produce makes delicious smoothies, soups, stews and baked goods. Stale breads can be given a second chance as French toast, croutons or bread crumbs.
For more tools to get started with meal planning, making the most of your food budget and great recipes, check out the information and tools from www.unlockfood.ca.
Black Bean and Corn Salsa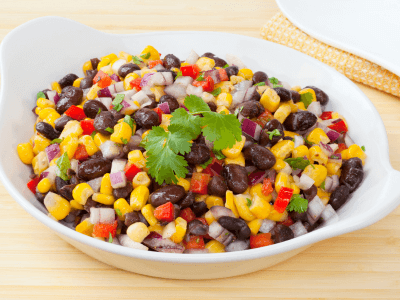 1 can black beans, drained and rinsed
2 cups frozen corn, thawed
½ cup chopped onion
1 chopped green pepper
1 chopped orange, red or yellow pepper
1-2 tablespoons canned jalapenos, finely chopped (optional)
1-2 tablespoons brine from canned jalapenos (optional)
Dressing
1/3 cup white sugar
¾ cup apple cider vinegar
¼ cup canola or olive oil
In a small pot, over medium heat, stir together dressing ingredients and bring to a boil. Let cool.
Mix beans, peppers, onion, corn and jalapeno juice (if using).
Pour dressing over mixture.
For best flavor, chill for at least 1 hour before serving.
Reference
https://www.gov.mb.ca/agriculture/protein/protein-supply/dry-beans.html