Fetal Alcohol Spectrum Disorder Awareness Day
FASD Awareness Day is celebrated on September 9 every year. This is an opportunity to spread awareness of FASD, diagnosis, strategies, and prevention.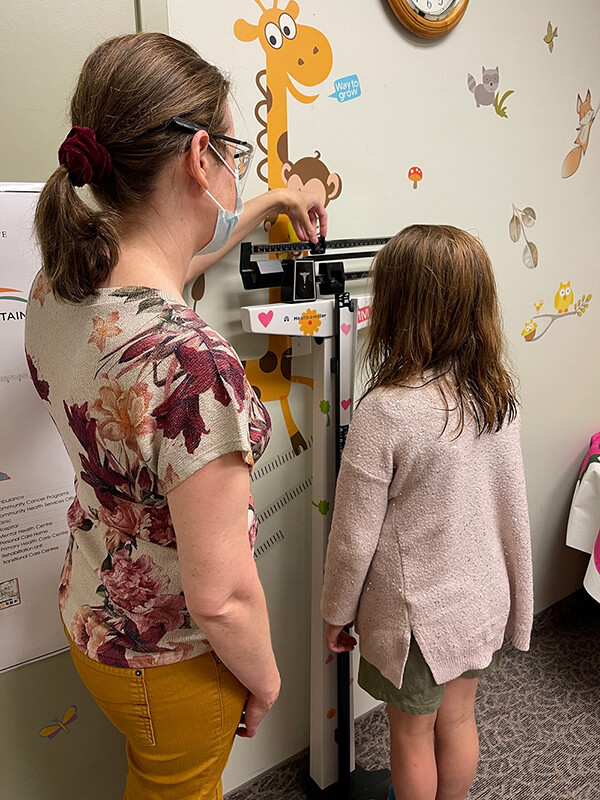 Fetal Alcohol Spectrum Disorder (FASD) is a diagnostic term used to describe the range of effects that may result when prenatal alcohol exposure occurs. These lifelong effects can include physical, behavioural, and emotional difficulties and learning disabilities. It is estimated that 4% of Canadians have FASD.
In Manitoba, all assessments for FASD are done by the Manitoba FASD Centre in coordination with the Manitoba FASD Network. Prairie Mountain Health has two FASD Diagnostic Coordinators with the Network.
Today, we would like to share Bobby's story and experience. Although Bobby is fictional, the experience is a realistic representation of many families that have a child referred to the FASD Centre.
Bobby is an eight-year-old female from the Prairie Mountain Health region who was referred to the FASD (Fetal Alcohol Spectrum Disorder) Centre for an assessment in 2020. Bobby's mom was concerned about Bobby's very active behaviour, poor memory and struggles at school.
Referrals to the Manitoba FASD Network are accepted from families/legal guardians, physicians/health providers, and community agencies.
Bobby's mom met with the Prairie Mountain Health FASD Diagnostic Coordinator, who helped complete the intake paperwork and consent forms. The Coordinator contacted the school for their view on Bobby's strengths and difficulties at school. The Coordinator spent time with Bobby's mom, learning about how Bobby functioned at home, her development from birth to now, prenatal history, and what their family hoped to get from the assessment. All this information helped to determine the assessment plan for Bobby.
The team reviewed Bobby's file at the Manitoba FASD Centre in Winnipeg. It was determined that the FASD Centre should assess Bobby and identify which assessments she would need.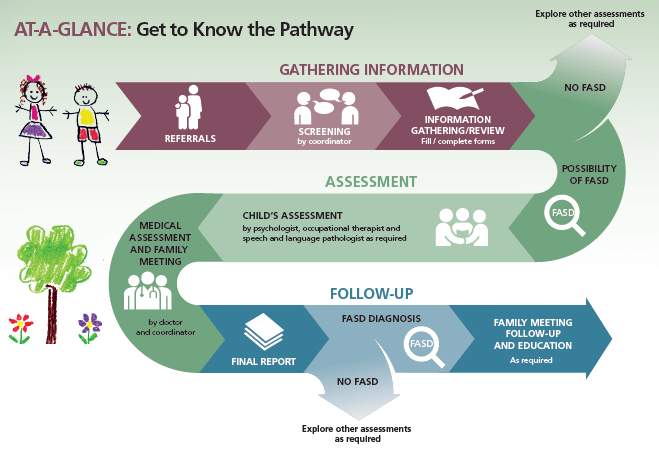 Bobby needed assessments by a Psychologist, a Speech-Language Pathologist, and an Occupational Therapist. The FASD Centre and FASD Diagnostic Coordinator worked with Bobby's mom to determine the best times and location to hold these assessments. Some families need to travel to Winnipeg or Dauphin; however, they were able to have appointments in Brandon for Bobby. There were lots of questionnaires to fill out, but the Coordinator helped. The Coordinator also took photos of Bobby to prepare for the assessment with the doctor.
After these assessments, Bobby and her mom met with the Developmental Pediatrician and Coordinator at a clinic. The doctor talked with Bobby's mom about her current concerns, Bobby's history, her feelings, school experiences, friends and daily activities. The doctor did a physical and developmental assessment with Bobby.
At this appointment, the Developmental Pediatrician determined that Bobby met the criteria for an FASD diagnosis. The Coordinator was there to support Bobby and her mom. A report containing all the information learned about how Bobby functioned, and strategies to try was mailed a few weeks later. Bobby's mom, her school, and the Coordinator then met to discuss the assessments' findings. At this meeting, they discussed Bobby's strengths and areas of difficulty. They worked together to plan ways to support Bobby in the future.
If you have questions about FASD or know someone interested in having a child under the age of 18 assessed for FASD, please contact:
FASD Diagnostic Coordinators
Twyla Gilroy, BSW RSW
625 3rd St. SW,
Dauphin, MB R7N 1R7
Phone: 204-622-6223 Fax: 204-629-3406
Erin McDougall, BA CTE
Town Centre, Unit B9, 800 Rosser Ave.,
Brandon, MB R7A 6N5
Phone: 204-578-2487 Fax: 204-571-2951