Do you say to-MAH-to or to-MAY-to?
Whichever way you pronounce the name of this heat-loving plant, summer is their time to shine! This flavorful ingredient is chalked full of vitamins and minerals, such as vitamin C & K, potassium and folate; as well as antioxidants like lycopene and beta-carotene. Not only are they a great source of nutrition, but tomatoes are extremely versatile, ranging in size, color and flavor profile. While there exist many different varietals of tomatoes in this article we'll cover some of the more popular ones as well as some delicious recipe ideas.
Starting out with one of the smallest varieties, we have cherry tomatoes. Like the name indicates, these little guys are the size of cherries, are typically sweet, have a thicker skin than larger tomatoes and come in a variety of colors: orange, yellow, bright red and slightly mauve. Although their size makes them perfect for snacking on their own, they are also great for adding a pop of color and a touch of sweetness to any dish. Try chopping them up with cucumbers, red onion, feta, olives and bell pepper to create a fiber rich salad that stores well in the fridge (Greek Salad Recipe – Love and Lemons). Pair it with some quinoa and chickpeas to create a balanced meal or have it as a side to your next BBQ.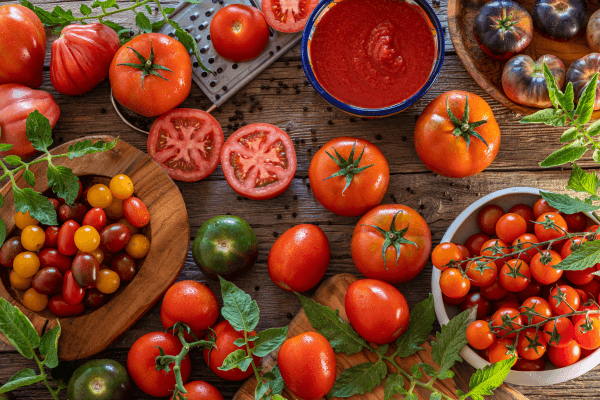 Next, we have a popular tomato, well-known to Italian cuisine: the roma tomato. These medium-sized, oval shaped fruits are bursting with a rich tangy tomato flavor. Due to their strong taste, they work great in any dish to which you want to impart a slightly acidic and sweet tomato taste. For that reason, they are typically used in sauces, stews and even concentrated into tomato paste. To intensify the tomato flavor and bring out it's natural sweetness, try roasting the tomatoes beforehand. This recipe: Roasted Roma Tomato Sauce | The Frayed Apron is perfect for your next pasta night, if you're looking for a sweet and zippy tomato sauce!
Lastly, one of the largest tomatoes are called beefsteak tomatoes; big, round, and mild in flavor. Compared to their smaller counterparts, they are a lot meatier and juicier; making them ideal for fresh sauces and salsas. Try making this quick and simple salsa (Homemade salsa with fresh tomatoes – Chatelaine) for your next 'Taco Tuesday'. Or make a show-stopping appetizer to impress your guest with these 'Burrata stuffed tomatoes' (Creamy Burrata Cheese-Stuffed Tomatoes Recipe – La Cucina Italiana). Both recipes are no-cook dishes, ideal for any hot night where you simply don't want to turn on the oven!