Back to School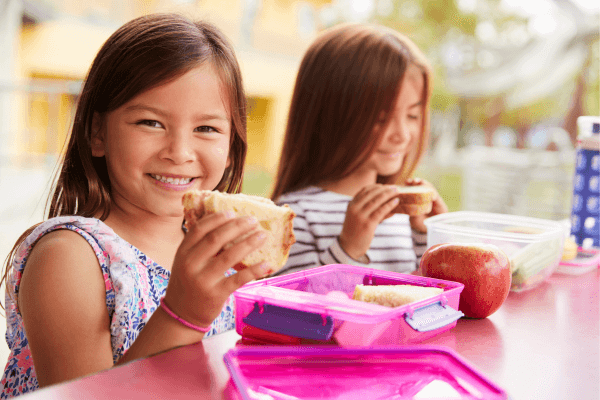 The one chore many parents/caregivers hate about back to school is packing lunches. Its so easy to get into the habit of the same old same old. If you have sent the same apple to school multiple times a week and ended up just bringing it to work in your lunch on Friday, you are not alone.
Here are some tips for great lunches
Get help from your child. Children who help make lunches are more likely to eat it. Younger children can help choose between a couple fruit, veggies, or crackers that they would prefer. If you are running out of ideas they might have an idea for something different.
Stock up. Have easy to pack items on hand for those extra busy days. Keep stocked pantry items such as canned fruit, granola bars, canned fish, canned beans/chickpeas, whole grain crackers, and dried fruit and fridge items such as cheese cubes, hard boiled eggs, cut up veggies and fruit, yogurt etc. It helps to have a designated area in the cupboard and fridge for lunch items.
Keep lunch bags and containers in one area. Make packing quick and easy by designating a portion of a cupboard and or drawer for lunch items such as containers, lunch kits, thermos' and water bottles.
If your children don't have access to a microwave or time to reheat leftovers at school ,consider investing in a thermos. Heat it up by adding boiling water, cover and let stand for 2 minutes, dump out the water then put the hot food in. It stays warm until lunchtime. This is great for curries, soups, and stews.
Try these quick and healthy ideas
Cold cereal, milk or soy drink and berries
Freeze leftover burritos in single servings all ready to pack. Try different fillings such as scrambled egg, veggie, beef or chicken.
Make a power bowl. All you need is a grain, protein, veggies and sauce/flavour (try – rice, beans, and peppers with salsa, or leftover chicken, pasta, tomatoes and pesto)
Boiled egg, snap peas and carrots, crackers, yogurt.
Muffin, cheese stick, cucumber and an orange.
Broccoli Cheese Muffins (from Guelph Family Health Study, Snack Healthy, Snack Happy Cookbook)
2 cups (500 mL) flour
1 teaspoon (5 mL) baking soda
1 teaspoon (5 mL) baking powder
1 teaspoon (5 mL) onion powder
Pinch salt
¼ (60 mL) cup bell pepper, finely chopped
1 ¼ cup (310 mL) cheddar cheese, shredded
2 eggs
½ cup (125 mL) butter or margarine melted
1 cup (250 mL) milk
2 green onions, sliced
1 cup (250 mL) broccoli, finely chopped
Instructions
Preheat oven to 350F and line muffin tins with paper cups
In a large bowl, mix together flour, baking soda, baking powder, onion powder, salt, bell pepper and cheddar cheese.
In separate bowl, whisk egg, butter, milk and green onions together.
Stir in broccoli and fold in dry ingredients.
Scoop into muffin tin and bake for 25 minutes until an inserted toothpick comes out clean.