August 31st marks International Overdose Awareness Day
Purple chairs from around the region in 2022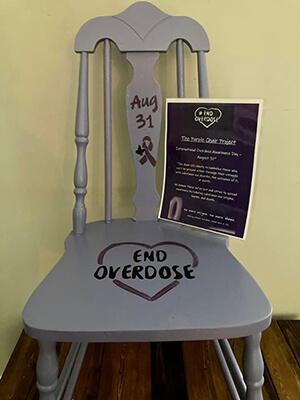 This annual worldwide campaign to end overdose aims to remember without stigma those who have died and acknowledge the grief of the family and friends left behind.
In 2022 some Prairie Mountain Health staff joined in the efforts to acknowledge and support people in their communities, raise awareness about the hidden impacts of overdose, and reduce stigma by creating purple chairs and placing them in visible locations with an explanation of their purpose. Community partners were invited to join in and bring this topic to light in our communities.
The 2023 theme for International Overdose Awareness Day is "Recognizing those people who go unseen,": aiming to honour the people whose lives have been altered by overdose. They are the family and friends grieving the loss of a loved one, workers in healthcare and support services extending strength and compassion or spontaneous first responders who selflessly assume the role of a lifesaver.
Join us in continuing to be a part of the change. Get Involved – International Overdose Awareness Day (overdoseday.com) has other options for getting involved, resources, and campaign materials available if you'd like to host an event in your community. Help bring awareness to the Purple Chair Campaign. Print this poster and display it in your community. If you decide to paint a purple chair or do another campaign, let us know; we would love to see all the efforts made. Email Ashley Vandepoele at avandepoele1@pmh-mb.ca and let her know about it!