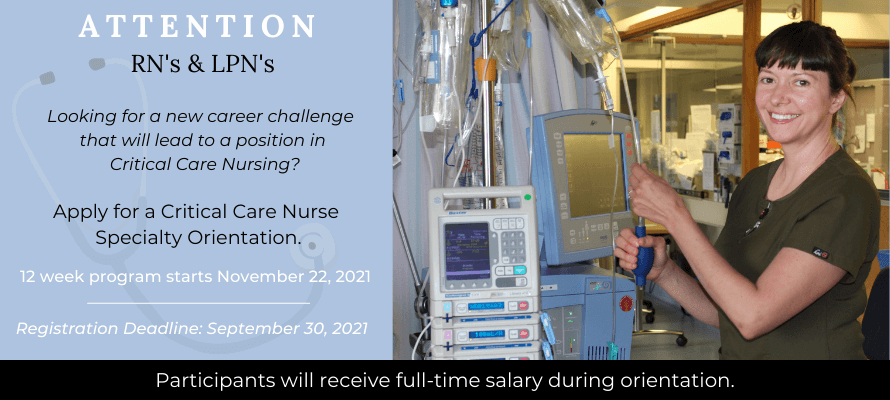 Looking for a new career challenge that will lead to a position in Critical Care Nursing?
Critical Care nurses treat Manitoba's sickest patients in our Special Care Units (SCU) and Intensive Care Units (ICU).
The Critical Care Nursing Orientation Program is up to 16 weeks, including theory both online and in person, labs and clinical practicum. 
Course length will be dependent on site. The online course is Essentials of Critical Care Orientation from the American Association of Critical Care Nurses. 
Completion of this course will lead to a position in the Brandon Regional Health Centre Intensive Care Unit or the Dauphin Regional Health Centre Special Care Unit.
This specialty orientation requires a full time commitment up to 16 weeks with pay at current wage for the duration of the course, despite the EFT of the position the person is awarded.  The course is rewarding, but the pace of work and learning is demanding.  There is limited flexibility for time away. Vacation or LOAs cannot be approved for the duration of the course.
Participants will:
Be supported in the course by department CTMs, CRNs with Critical Care educator (PMH and WRHA) course facilitation.
Receive full-time salary during orientation
Enjoy a supportive learning environment
Learn the newest methods with the latest technology
Pre requisite – Cardiac Rhythms course within the last year. Introduction to Cardiac Rhythms will be offered Week 1 of the course for participants who do not have current training.
Phase 1 – Theory & Lab – approx. 6 weeks – Monday – Friday
Theory is delivered in a blended model approach with online learning and in class sessions. Participants will be provided a schedule with assigned online modules and completion timelines. The scheduled skills labs and in-class application sessions will build on the concepts from the online modules so participants are required to maintain pace with the course outline.
Skills Labs will be held in Brandon.
Phase 2 – Buddied Clinical – 4 weeks – Monday – Friday – mix of 8hr and 12 hours days
Participants will be paired with an experienced nurse on the unit where they will be working a combination of 8 and 12 hours shifts. During this time, the pair will provide 1:1 patient care to gain understanding of and experience in caring for critically ill patients. A Critical Care educator will also provide support to facilitate skills practice, knowledge conversations, seeking out learning opportunities.
Phase 3 – Specialized Orientation – 3-4 weeks – shift work schedule
Building on the Buddied Clinical experience, Specialized Orientation (SO) will occur on the unit of hire.  During SO, participants will care for a patient independently with the mentorship of an assigned preceptor.  This portion of the orientation aims to build independence and integration in to the unit of hire.
---
Apply Now!
Interested applicants apply directly to posted ICU/SCU positions and submit cover letter, resume and references. Application deadline is September 30, 2021.
Note: A minimum of one year acute care experience in surgery, medicine, cardiac or emergency care is required. Once you have secured a position you will be registered into the orientation program.
If you have any questions please contact: